Luca Braunger will devote his doctorate to the topic "Characterization of the extracellular miRNA profile in Parkinson's patients with the LRRK2 G2019S mutation" and will be supervised by Prof. Thomas Gasser and Felix Knab from the Department for Neurodegenerative Diseases.
Peter Paßlack will research "biomarker-based stratification in meningiomas" and will be supervised by Prof. Ghazaleh Tabatabai and Dr. Felix Behling from the Department of Neurology and Interdisciplinary Neuro-Oncology.
Both candidates were able to convince the committee and will now receive the Johannes Dichgans doctoral scholarship from the Hertie Institute from October 2022 to September 2023.
We wish both of them great success.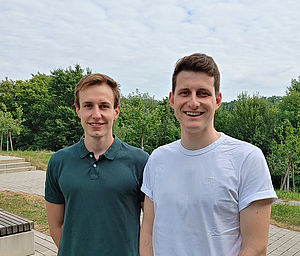 Copyright: Silke Dutz / HIH