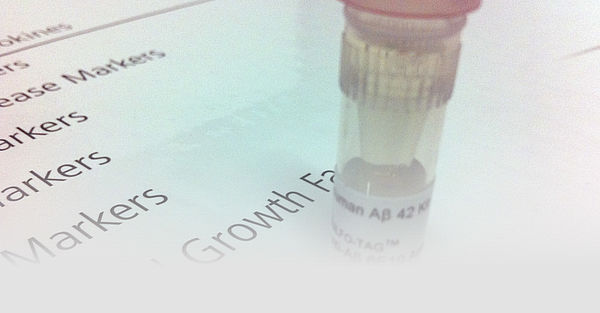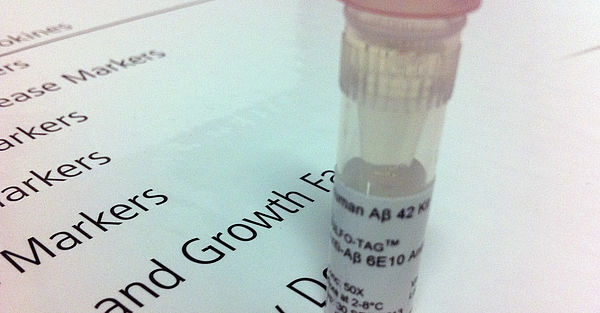 Processes associated with Alzheimer´s disease (AD) and other age-related neurodegenerative diseases start many years before the onset of the first clinical symptoms. When they become clinically manifest, the disease has already caused brain damage. Thus, there is a critical need to characterize this pre-clinical disease stage and to identify patients at risk. Molecular biomarkers are crucial to define pre-symptomatic disease stages and to monitor the efficacy of treatments, aiming to modify the disease in this early phase. Cerebrospinal fluid (CSF) and/or blood proteome constitute an appealing source for such biomarkers to predict and monitor the disease onset and progression.

1. To study the profile and mechanisms of known molecular biomarker changes in AD, i.e. ß-amyloid and microtubule associated protein tau (Aß and Tau) including phosphorylated species and fragments.
2. To use mouse models to predict and understand biomarker changes in response to treatments in clinical trials.
3. To identify and characterize novel fluid biomarkers of neurodegeneration and neuroinflammation in mouse models and assess their value in clinical settings.
To this end we have improved CSF and blood collection techniques in mice to meet the standards of the most recent QC programs for collecting and processing human samples (Mattson et al., Alzheimers Dement, 2013). Murine fluid samples derive from our aging colonies of mouse models of neurodegenerative diseases. Human fluid samples are obtained from the Neuro-Biobank of the Hertie Institute and the DZNE Tübingen, in close collaboration with the Dementia Research Unit. Highly sensitive state-of-the-art immunoassays and mass spectrometry-based approaches are applied to quantify molecular biomarkers.
We have reported that transgenic mice overexpressing human ß-amyloid precursor protein (APP) recapitulate CSF Aß and Tau changes observed in AD (Maia and Kaeser et al., Science Transl Med, 2013). This work laid the foundation to use transgenic mouse models for translational research of fluid biomarkers. We succeeded in generating a novel high-sensitivity sandwich ELISA assay to measure murine Tau in CSF and blood of APP transgenic mice. By treating these mice with an inhibitor of BACE1, the cleaving enzyme that initiates Aß production, we could demonstrate that suppression of amyloidosis completely abolished the age-related CSF Tau increase (Schelle et al., Alzheimers Dement, 2016). These findings and the tight correlation of Aß deposition in the brain with levels in the CSF Tau suggest that CSF Tau is a biomarker of cerebral ß-amyloidosis (rather than for Tau lesions as previously thought).

Mouse models also helped to establish neurofilament light chain (NfL) as a molecular marker of neurodegeneration. We found a robust NfL increase in the CSF and blood of α-synuclein-, Tau-, and APP-transgenic mice, reminiscent of the NfL signature in patients with α-synucleinopathies, tauopathies, and AD (Bacioglu et al., Neuron, 2016). Blood and CSF NfL levels were strongly correlated suggesting that NfL in blood is brain-derived. Moreover, induction of proteopathic lesions in α-synuclein transgenic mice could elevate both CSF and blood NfL levels, whereas inhibition of Aß deposition through BACE1 inhibition in APP transgenic attenuated the NfL increase. Exploiting biospecimens from the DIAN study, we found that NfL in blood, especially its rate of change, predicts disease progression already at very early presymptomatic stages of familial AD (see also Dementia Research Unit), which corroborates its great potential as a clinical blood biomarker for neurodegeneration (Preische et al., Nature Medicine, 2019).

Eninger T, Müller SA, Becioglu M, Schweighauser M, Lambert M, Maia LF, Neher JJ, Hornfeck SM, Obermüller U, Kleinberger G, Haass C, Kahle PJ, Staufenbiel M, Ping L, Duong DM, Levey AI, Seyfried NT, Lichtenthaler SF, Jucker M, Kaeser SA (2022) Signatures of glial activity can be detected in the CSF proteome. Proc Natl Acad Sci USA 119(24):e2119804119 (Abstract)
Kaeser SA, Häsler LM, Lambert M, Bergmann C, Bottelbergs A, Theunis C, Mercken M, Jucker M (2022) CSF p-tau increase in response to Aβ-type and Danish-type cerebral amyloidosis and in the absence of neurofibrillary tangles. Acta Neuropathol. 143(2):287-290(Abstract)
Kaeser SA, Lehallier B, Thinggaard M, Häsler LM, Apel A, Bergmann C, Berdnik D, Jeune B, Christensen K, Grönke S, Partridge L, Wyss-Coray T, Mengel-From J, Jucker M (2021) A neuronal blood marker is associated with mortality in old age. Nature Aging 1:218-225 (Abstract)
Preische O, Schultz SA, Apel A, Kuhle J, Kaeser SA, Barro C, Gräber S, Kuder-Buletta E, LaFougere C, Laske C, Vöglein J, Levin J, Masters CL, Martins R, Schofield PR, Rossor MN, Graff-Radford NR, Salloway S Ghetti B, Ringman JM, Noble JM, Chhatwal J, Goate AM, Benzinger TLS, Morris JC, Bateman RJ, Wang G, Fagan AM, McDade EM, Gordon BA, Jucker M; Dominantly Inherited Alzheimer Network (2019) Serum neurofilament dynamics predicts neurodegeneration and clinical progression in presymptomatic Alzheimer's disease. Nature medicine 25(2):277-283 (Abstract)
Schelle J, Häsler L, Göpfert JC, Joos TO, Vanderstichele H, Stoops E, Mandelkow EM, Neumann U, Shimshek DR, Staufenbiel M, Jucker M, Kaeser SA (2017) Prevention of tau increase in cerebrospinal fluid of APP transgenic mice suggests downstream effect of BACE1 inhibition. Alzheimers Dement 13:701-9 (Abstract)
Bacioglu M, Maia LF, Preische O, Schelle J, Apel A, Kaeser SA, Schweighauser M, Eninger T, Lambert M, Pilotto A, Shimshek DR, Neumann U, Kahle PJ, Staufenbiel M, Neumann M, Maetzler W, Kuhle J, Jucker M (2016) Neurofilament Light Chain in Blood and CSF as Marker of Disease Progression in Mouse Models and in Neurodegenerative Diseases. Neuron 91:56-66 (Abstract)
Maia LF, Kaeser SA, Reichwald J, Lambert M, Obermüller U, Odenthal J, Martus P, Staufenbiel M, Schelle J, Jucker M (2015) Increase of CSF Aß during the very early phase of cerebral Aβ deposition in mouse models. EMBO Mol Med 7:895-903 (Abstract)
Maia LF, Kaeser SA, Reichwald J, Hruscha M, Martus P, Staufenbiel M, Jucker M (2013) Changes in Amyloid-β and Tau in the Cerebrospinal Fluid of Transgenic Mice Overexpressing Amyloid Precursor Protein. Sci Transl Med 5:194re2 (Abstract)
Mattsson N, Andreasson U, Persson S, Carrillo MC, Collins S, Chalbot S, Cutler N, Dufour-Rainfray D, Fagan AM, Heegaard NH, Robin Hsiung GY, Hyman B, Iqbal K, Lachno DR, Lleó A, Lewczuk P, Molinuevo JL, Parchi P, Regeniter A, Rissman R, Rosenmann H, Sancesario G, Schröder J, Shaw LM, Teunissen CE, Trojanowski JQ, Vanderstichele H, Vandijck M, Verbeek MM, Zetterberg H, Blennow K, Käser SA; Alzheimer's Association QC Program Work Group. (2013) CSF biomarker variability in the Alzheimer's Association quality control program. Alzheimers Dement 9: 251-61 (Abstract)
Unit Leader
Stephan Käser
Phone +49 (0)7071 29-86855
stephan.kaeser@uni-tuebingen.de
Address
Center of Neurology
Hertie Institute for Clinical Brain Research
Department Cellular Neurology

Otfried-Müller-Straße 27
72076 Tübingen

Phone: +49 (0)7071 29-86855
Fax: +49 (0)7071 29-4521