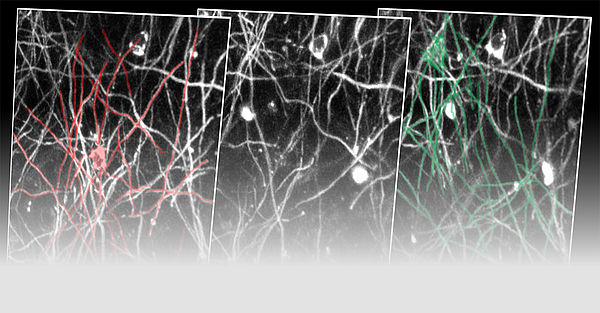 The goal of the Snaidero lab is to decipher and control cellular interactions between neurons and glia cells in the cortex, focussing on the dynamic processes underlying myelination.
Oligodendrocytes are glial cells that in the central nervous system enwrap several axons simultaneously, enabling fast impulse propagation and providing long term metabolic support. In the cortical grey matter, complex and diverse patterns of myelin can be found along cortical axons that have been shown to be dynamic during adulthood with single sheath plasticity and global increase of myelin content over time. The regulation of this complex "myelinome" offers immense potential for neuronal network plasticity and has already been associated with memory. However, the molecular and functional determinants of this targeted process, its dynamic at a single cell level and the selectivity of the axo-glia units resulting from sparse cortical myelination remain largely unknown.
My lab is focussing on identifying the mechanisms underlying the cortical adaptive myelination, as well as its dysregulation in aging and inflammatory lesions, using advanced imaging techniques such as longitudinal awake intravital imaging correlated with volume electron microscopy. A key goal of the lab is to bridge the cellular, molecular and functional dimensions of targeted cortical myelination to, ultimately, develop new translational approaches for enhanced remyelination.
I. Molecular and functional cues shaping the cortical myelinome in adult

Cortical myelination is a complex and dynamics process that progress for a large part of the adulthood and has been associated with the efficient acquisition of higher brain functions such as long-term memory. However, the precise cues responsible for the establishment and plasticity of the cortical myelinome remain elusive. Our aim is to investigate focal and translational strategies to modulate neuronal activity as well as molecularly edit neurons and glia cells to achieve focal control of the cortical myelination plasticity.


II. Improving cortical remyelination efficiency in aging and in inflammatory lesions

While cortical myelination is a very targeted process where, in young adult, single myelin sheaths are effectively replaced upon a demyelination event, this process is dramatically altered in aging and in inflammatory lesions. Our aim is to investigate the cellular, environmental and molecular factors that lead to this failing remyelination and design novel strategies to potentiate it.


III. Exploring novel therapeutic strategies to prevent demyelination, inflammation and axonal pathologies in cortical multiple sclerosis model

Cortical pathology contributes to chronic cognitive impairment of patients suffering from the neuroinflammatory disease multiple sclerosis. The complexity of the pathology, ranging from immune system infiltration and inflammation, to neuronal pathologies and demyelination, is a challenge for devicing effective therapeutic strategies. Our aims are to investigate novel immunomodulation strategies and targeted cellular molecular editing to improve the recovery or prevent the formation of the cortical lesions.


Hannes Juretzka
Master Student
The full list of publications can be found on Pubmed and ORCID
Selected publications
Mezydlo A, Treiber N, Ullrich Gavilanes EM, Eichenseer K, Ancău M, Wens A, Ares Carral C, Schifferer M, Snaidero N, Misgeld T, Kerschensteiner M. Remyelination by surviving oligodendrocytes is inefficient in the inflamed mammalian cortex. Neuron. 2023 Jun 7;111(11):1748-1759.e8. doi: 10.1016/j.neuron.2023.03.031.
Jafari M#, Schumacher AM#, Snaidero N#, Ullrich Gavilanes EM, Neziraj T, Kocsis-Jutka V, Engels D, Jürgens T, Wagner I, Weidinger JDF, Schmidt SS, Beltrán E, Hagan N, Woodworth L, Ofengeim D, Gans J, Wolf F, Kreutzfeldt M, Portugues R, Merkler D, Misgeld T, Kerschensteiner M. Phagocyte-mediated synapse removal in cortical neuroinflammation is promoted by local calcium accumulation. Nat Neurosci. 2021 Mar;24(3):355-367. doi: 10.1038/s41593-020-00780-7. Epub 2021 Jan 25.
#: equal contribution

Snaidero N*, Schifferer M, Mezydlo A, Zalc B, Kerschensteiner M, Misgeld T. Myelin replacement triggered by single-cell demyelination in mouse cortex. Nat Commun. 2020 Sep 29;11(1):4901. doi: 10.1038/s41467-020-18632-0.
*: corresponding author

Masuda T, Amann L, Sankowski R, Staszewski O, Lenz M, D Errico P, Snaidero N, Costa Jordão MJ, Böttcher C, Kierdorf K, Jung S, Priller J, Misgeld T, Vlachos A, Meyer-Luehmann M, Knobeloch KP, Prinz M. Novel Hexb-based tools for studying microglia in the CNS. Nat Immunol. 2020 Jul;21(7):802-815. doi: 10.1038/s41590-020-0707-4. Epub 2020 Jun 15.

Fecher C, Trovò L, Müller SA, Snaidero N, Wettmarshausen J, Heink S, Ortiz O, Wagner I, Kühn R, Hartmann J, Karl RM, Konnerth A, Korn T, Wurst W, Merkler D, Lichtenthaler SF, Perocchi F, Misgeld T. Cell-type-specific profiling of brain mitochondria reveals functional and molecular diversity. Nat Neurosci. 2019 Oct;22(10):1731-1742. doi: 10.1038/s41593-019-0479-z. Epub 2019 Sep 9.

Mazaheri F, Snaidero N, Kleinberger G, Madore C, Daria A, Werner G, Krasemann S, Capell A, Trümbach D, Wurst W, Brunner B, Bultmann S, Tahirovic S, Kerschensteiner M, Misgeld T, Butovsky O, Haass C. TREM2 deficiency impairs chemotaxis and microglial responses to neuronal injury. EMBO Rep. 2017 Jul;18(7):1186-1198. doi: 10.15252/embr.201743922. Epub 2017 May 8.

Snaidero N, Velte C, Myllykoski M, Raasakka A, Ignatev A, Werner HB, Erwig MS, Möbius W, Kursula P, Nave KA, Simons M. Antagonistic Functions of MBP and CNP Establish Cytosolic Channels in CNS Myelin. Cell Rep. 2017 Jan 10;18(2):314-323. doi: 10.1016/j.celrep.2016.12.053.

Safaiyan S, Kannaiyan N, Snaidero N, Brioschi S, Biber K, Yona S, Edinger AL, Jung S, Rossner MJ, Simons M. Age-related myelin degradation burdens the clearance function of microglia during aging. Nat Neurosci. 2016 Aug;19(8):995-8. doi: 10.1038/nn.4325. Epub 2016 Jun 13.

Snaidero N, Möbius W, Czopka T, Hekking LH, Mathisen C, Verkleij D, Goebbels S, Edgar J, Merkler D, Lyons DA, Nave KA, Simons M. Myelin membrane wrapping of CNS axons by PI(3,4,5)P3-dependent polarized growth at the inner tongue. Cell. 2014 Jan 16;156(1-2):277-90. doi: 10.1016/j.cell.2013.11.044.
Research Group Leader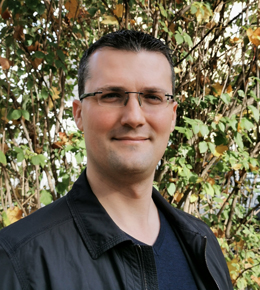 Dr. Nicolas Snaidero
Phone +49 (0)7071 29-89189
nicolas.snaidero@uni-tuebingen.de
Address
Hertie Institute for Clinical Brain Research
Otfried-Müller-Straße 25
72076 Tübingen