The projects of the Clinical and Experimental Neurooncology Laboratory focus on the biology of tumors of the nervous system, with special emphasis on molecular mechanisms of tumorigenesis, acquired therapy resistance, and treatment-induced vulnerability. Our projects are translationally oriented, i.e. the questions of our projects are based on unsolved clinical challenges. Our ambition is to achieve further development of therapeutic strategies in phase I/II trials. Our research projects thus span the entire translational chain of discovery, validation and application with constant forward and reverse translation.
Wir möchten Sie ganz herzlichen auf unserem Newsfeed begrüßen.
April 2023
Wir begrüßen ganz herzlich unsere neuen medizinischen Doktoranden Frau Jil Trampert und Herr Felix Krautwurst, die uns in der kommenden Zeit unterstützen werden. Wir wünschen einen angenehmen und lehrreichen Start.
Wir freuen uns über ein ausführliches und erklärendes Video bezüglich unserer Publikation "Clinical outcome of biomarker-guided therapies in adult patients with tumors of the nervous system."
Es findet sich unter folgendem Link:
https://www.youtube.com/watch?v=BZYdOVPMeYM
März 2023
Wir hatte eine erlebnisreiche und lehrreiche Zeit auf der iFit Conference in Zell am See.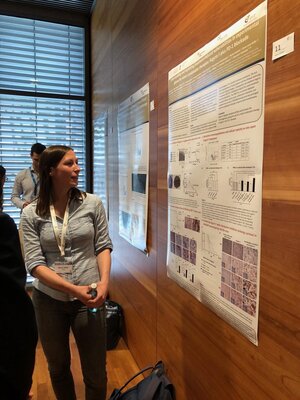 Hierbei konnten Frau Bianca Walter und Herr Dr. Daniel Merk ihre aktuellen Ergebnisse präsentieren und diskutieren.
Wir freuen uns über die Publikation : "Clinical outcome of biomarker-guided therapies in adult patients with tumors of the nervous system." die im März im Journal Neurooncology Advances erschienen ist.
Wir begrüßen ganz herzlich unseren neunen Mitarbeiten:
Surender Surender wird uns als PhD Student verstärken. Wir wünschen Ihm einen lehrreichen und angenehmen Start.

Januar 2023
Wir begrüßen unsere neuen Mitarbeitenden:
Frau Anke Jacob wird uns von jetzt an als medizinisch-technische Assistentin vor allem bei der Zellkulturarbeit unterstützen.
Frau Bsc. Viktoria Dimanova absolviert im Rahmen ihres Masters " Moleculare Medicine" bei uns eine Laborrotation.
Wir wünschen beiden einen angenehmen Start und freuen uns auf das gemeinsame Arbeiten..
Dezember 2022
Wir wünschen Allen ein erholsames Weihnachtsfest und einen guten Rutsch ins neue Kalenderjahr!
Wir hatten eine tolle Weihnachtsfeier des Hertie Instituts und freuen uns über die verteilten Weihnachtsgeschenke.
November 2022
Teile unseres präklinischen und klinischen Teams nehmen an dem jährlichen Meeting der Society of Neurooncology (SNO) teil (16.11-20.11.2022).
Link Google Scholar
Selected Publications (last 3 years)


Omuro A, Brandes AA, Carpentier AF, Idbaih A, Reardon DA, Cloughesy T, Sumrall A, Baehring J, van den Bent M, Bähr O, Lombardi G, Mulholland P, Tabatabai G, Lassen U, Sepulveda JM, Khasraw M, Vauleon E, Muragaki Y, Di Giacomo AM, Butowski N, Roth P, Qian X, Fu AZ, Liu Y, Potter V, Chalamandaris AG, Tatsuoka K, Lim M, Weller M. Radiotherapy Combined With Nivolumab or Temozolomide for Newly Diagnosed Glioblastoma With Unmethylated MGMT Promoter: An International Randomized Phase 3 Trial. Neuro Oncol. 2022 Apr 14:noac099. doi: 10.1093/neuonc/noac099. Epub ahead of print.
Trautwein C, Zizmare L, Mäurer I, Bender B, Bayer B, Ernemann U, Tatagiba M, Grau SJ, Pichler BJ, Skardelly M, Tabatabai G. Tissue metabolites in diffuse glioma and their modulations by IDH1 mutation, histology, and treatment. JCI Insight. 2022 Feb 8;7(3):e153526. doi: 10.1172/jci.insight.
Walter B, Canjuga D, Yüz SG, Ghosh M, Bozko P, Przystal JM, Govindarajan P, Anderle N, Keller A-L, Tatagiba M, Schenke-Layland K, Rammensee H-G, Stevanovic S, Malek NP, Schmees C, Tabatabai G. Argyrin F Treatment-Induced Vulnerabilities Lead to a Novel Combination Therapy in Experimental Glioma. Adv. Therap. 2021, 2100078.
Nassiri F, Liu J, Patil V, Mamatjan Y, Wang JZ, Hugh-White R, Macklin AM, Khan S, Singh O, Karimi S, Corona RI, Liu LY, Chen CY, Chakravarthy A, Wei Q, Mehani B, Suppiah S, Gao A, Workewych AM, Tabatabai G, Boutros PC, Bader GD, de Carvalho DD, Kislinger T, Aldape K, Zadeh G. A clinically applicable integrative molecular classification of meningiomas. Nature. 2021 Sep;597(7874):119-125. doi: 10.1038/s41586-021-03850-3. Epub 2021 Aug 25.
Goldbrunner R, Stavrinou P, Jenkinson MD, Sahm F, Mawrin C, Weber DC, Preusser M, Minniti G, Lund-Johansen M, Lefranc F, Houdart E, Sallabanda K, Le Rhun E, Nieuwenhuizen D, Tabatabai G, Soffietti R, Weller M. EANO guideline on the diagnosis and management of meningiomas. Neuro Oncol. 2021 Nov 2;23(11):1821-1834. doi: 10.1093/neuonc/noab150.
Przystal JM, Becker H, Canjuga D, Tsiami F, Anderle N, Keller AL, Pohl A, Ries CH, Schmittnaegel M, Korinetska N, Koch M, Schittenhelm J, Tatagiba M, Schmees C, Beck SC, Tabatabai G. Targeting CSF1R Alone or in Combination with PD1 in Experimental Glioma. Cancers (Basel). 2021 May 15;13(10):2400. doi: 10.3390/cancers13102400.
Platten M, Bunse L, Wick A, Bunse T, Le Cornet L, Harting I, Sahm F, Sanghvi K, Tan CL, Poschke I, Green E, Justesen S, Behrens GA, Breckwoldt MO, Freitag A, Rother LM, Schmitt A, Schnell O, Hense J, Misch M, Krex D, Stevanovic S, Tabatabai G, Steinbach JP, Bendszus M, von Deimling A, Schmitt M, Wick W. A vaccine targeting mutant IDH1 in newly diagnosed glioma. Nature. 2021 Apr;592(7854):463-468. doi: 10.1038/s41586-021-03363-z. Epub 2021 Mar 24.
Wick A, Bähr O, Schuler M, Rohrberg K, Chawla SP, Janku F, Schiff D, Heinemann V, Narita Y, Lenz HJ, Ikeda M, Ando Y, Wick W, Steinbach JP, Burger MC, Wenger K, Lassen U, Sankhala KK, Roggia C, Genvresse I, Munhoz C, Rentzsch C, Reschke S, Langer S, Wagner M, Kaulfuss S, Cai C, Lagkadinou E, Jeffers M, Peña C, Tabatabai G. Phase I Assessment of Safety and Therapeutic Activity of BAY1436032 in Patients with IDH1-Mutant Solid Tumors. Clin Cancer Res. 2021 May 15;27(10):2723-2733. doi: 10.1158/1078-0432.CCR-20-4256. Epub 2021 Feb 23.
Behling F, Fodi C, Gepfner-Tuma I, Kaltenbach K, Renovanz M, Paulsen F, Skardelly M, Honegger J, Tatagiba M; International Consortium on Meningiomas, Schittenhelm J, Tabatabai G. H3K27me3 loss indicates an increased risk of recurrence in the Tübingen meningioma cohort. Neuro Oncol. 2021 Aug 2;23(8):1273-1281. doi: 10.1093/neuonc/noaa303.
Herrlinger U, Tzaridis T, Mack F, Steinbach JP, Schlegel U, Sabel M, Hau P, Kortmann RD, Krex D, Grauer O, Goldbrunner R, Schnell O, Bähr O, Uhl M, Seidel C, Tabatabai G, Kowalski T, Ringel F, Schmidt-Graf F, Suchorska B, Brehmer S, Weyerbrock A, Renovanz M, Bullinger L, Galldiks N, Vajkoczy P, Misch M, Vatter H, Stuplich M, Schäfer N, Kebir S, Weller J, Schaub C, Stummer W, Tonn JC, Simon M, Keil VC, Nelles M, Urbach H, Coenen M, Wick W, Weller M, Fimmers R, Schmid M, Hattingen E, Pietsch T, Coch C, Glas M; Neurooncology Working Group of the German Cancer Society. Lomustine-temozolomide combination therapy versus standard temozolomide therapy in patients with newly diagnosed glioblastoma with methylated MGMT promoter (CeTeG/NOA-09): a randomised, open-label, phase 3 trial. Lancet. 2019 Feb 16;393(10172):678-688. doi: 10.1016/S0140-6736(18)31791-4. Epub 2019 Feb 14.

Research Group leader
Director of the department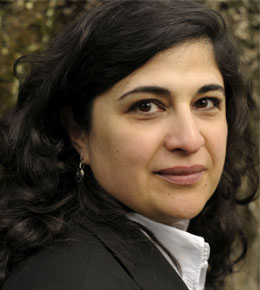 Prof. Dr. Dr. Ghazaleh Tabatabai
Phone 07071 29-85018
ghazaleh.tabatabai@uni-tuebingen.de
Address
Center of Neurology
Hertie Institute for Clinical Brain Research
Department of Neurology & Interdisciplinary Neuro-Oncology
Otfried-Müller-Straße 27
72076 Tübingen
Phone: +49 (0)7071 29-85018
Fax: +49 (0)7071 29-5957