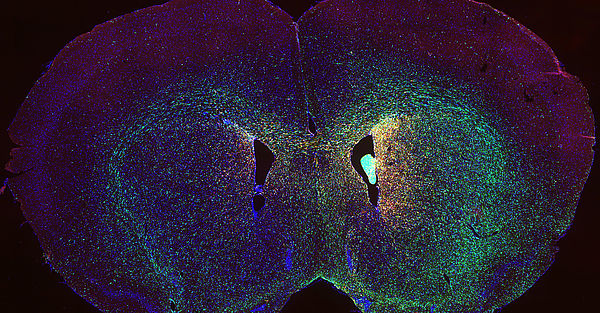 The Interdisciplinary Division of Neuro-Oncology at the Hertie-Institut for Clinical Brain Research is the result of the, in the context of the Excellent Initiative, newly created W3-Professorship in Neuro-Oncology at the Eberhard-Karls-University Tübingen. This Division has been established at the University Hospital Tübingen (UKT) and is affiliated to the Centre of Neurology (Department Prof. Ziemann) and the Department of Neurosurgery (Prof. Dr. M. Tatagiba) in cooperation with the Department of Radio-Oncology (Prof. Dr. D. Zips). Out-patient and in-patient treatment of neuro-oncologycal patients is organised on an interdisciplinary basis under the umbrella of the Centre for Neuro-Oncology at the Comprehensive Cancer Center Tübingen-Stuttgart
The projects of the lab are focusing on the biology of brain tumors, especially with targeted individualized therapies, molecular mechanisms in the development of resistance and cell based therapy approaches.
The research team is supported by the German Scholars Organisation and the Else Kröner-Fresenius Stiftung.
This page is currently under construction
Selected publications
Niessner H, Schmitz J, Tabatabai G, Schmid A, Calaminus C, Sinnberg T, Weide B, Eigentler TK, Garbe C, Schittek B, Quintanilla-Fend L, Bender B, Mai M, Praetorius C, Beissert S, Schackert G, Muders M, Meinhardt M, Baretton GB, Dummer R, Flaherty KT, Pichler BJ, Kulms D, Westphal D, Meier F. PI3K pathway inhibition achieves potent antitumor activity in melanoma brain metastases in vitro and in vivo. Clin Cancer Res. 2016. [Epub ahead of print]
Skardelly M, Brendle E, Noell S, Behling F, Wuttke TV, Schittenhelm J, Bisdas S, Meisner C, Rona S, Tatagiba MS, Tabatabai G. Predictors of preoperative and early postoperative seizures in patients with intra-axial primary and metastatic brain tumors: A retrospective observational single center study. Ann Neurol. 2015;78(6):917-28.
Weller M, Tabatabai G, Kästner B, Felsberg J, Steinbach JP, Wick A, Schnell O, Hau P, Herrlinger U, Sabel MC, Wirsching HG, Ketter R, Bähr O, Platten M, Tonn JC, Schlegel U, Marosi C, Goldbrunner R, Stupp R, Homicsko K, Pichler J, Nikkhah G, Meixensberger J, Vajkoczy P, Kollias S, Hüsing J, Reifenberger G, Wick W; DIRECTOR Study Group. MGMT Promoter Methylation Is a Strong Prognostic Biomarker for Benefit from Dose-Intensified Temozolomide Rechallenge in Progressive Glioblastoma: The DIRECTOR Trial. Clin Cancer Res. 2015 May 1;21(9):2057-64. doi: 10.1158/1078-0432.CCR-14-2737. Epub 2015 Feb 5.
Wirsching HG, Krishnan S, Florea AM, Frei K, Hasenbach K, Reifenberger G, Krayenbuehl N, Weller M, Tabatabai G. Thymosin β4 gene silencing decreases stemness and invasiveness in glioblastoma. Brain 2014;137:433-48
Gulbins E, Palmada M, Reichl M, Lüth A, Böhmer C, Amato D, Müller CP, Tischbirek CH, Groemer TW, Tabatabai G, Becker KA, Tripal B, Staedtler S, Ackerman TF, van Brederode J, Alzheimer C, Weller M, Lang UE, Kleuser B, Grassme H, Kornhuber J. Acid sphingomyelinase-ceramide system mediates effects of antidepressant drugs. Nat Med 2013;19:934-938
Gramatzki D, Herrmann C, Happold C, Becker KA, Gulbins E, Weller M, Tabatabai G. Glioma cell death induced by irradiation or alkylating agent chemotherapy is independent of the intrinsic ceramide pathway. PLoS One 2013; 7;8(5):e63527
Spescha RD, Shi Y, Wegener S, Keller S, Weber B, Wyss MM, Lauinger N, Tabatabai G, Paneni F, Consentino F, Hock C, Weller M, Nitsch RM, Lüscher TF, Camici GG. Deletion of the ageing gene p66Shc reduces early stroke size following ischaemia/reperfusion brain injury. Eur Heart J. 2013; 34: 96-103
Wick W, Platten M, Meisner C, Felsberg J, Tabatabai G, Simon M, Nikkhah G, Papsdorf K, Steinbach JP, Sabel M, Combs SE, Vesper J, Braun C, Meixensberger J, Ketter R, Mayer-Steinacker R, Reifenberger G, Weller M. Temozolomide chemotherapy alone versus radiotherapy alone for malignant astrocytoma in the elderly: the NOA-08 randomized, phase 3 trial. Lancet Oncol 2012; 13:707-715
Hasenbach K, Wiehr S, Herrmann C, Mannheim J, Cay F, von Kürthy G, Bolmont T, Grathwohl SA, Weller M, Lengerke C, Pichler B, Tabatabai G. Monitoring the glioma tropism of bone marrow-derived progenitor cells by two-photon laser scanning microscopy and positron emission tomography. Neuro Oncol 2012; 12:302-307
Schraivogel D, Weinmann L, Beier D, Tabatabai G, Eichner A, Zhu JY, Anton M, Sixt M, Weller M, Beier CP, Meister G. CAMTA is a novel tumor suppressor regulated by miR-9/9* in glioblastoma cells. EMBO J 2011; 30, 4309-4322

We collaborate closely with national and international partners and alliances, including:

Deutsches Gliomnetzwerk (German Glioma Network)
the German Cancer Consortium (Deutsches Konsortium für Translationale Krebsforschung, DKTK)
the European Organisation for Research and Treatment of Cancer (EORTC)
the European Association of Neuro-Oncology (EANO)
the International Consortium on Meningioma (ICOM)
Research group leader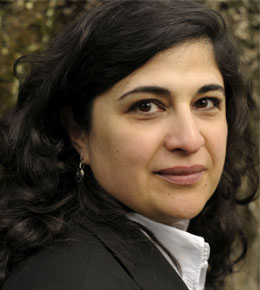 Prof. Dr. Dr. Ghazaleh Tabatabai
ghazaleh.tabatabai@uni-tuebingen.de
Address
Center of Neurology
Hertie Institute for Clinical Brain Research
Department Neurology and Stroke
Otfried-Müller-Straße 27
72076 Tübingen
Phone: +49 (0)7071 29-85018
Fax: +49 (0)7071 29-5957