Our group aims at unraveling the molecular pathophysiology of migraine and other primary headache disorders. One major focus of our research is familial hemiplegic migraine (FHM), a rare and severe monogenic subtype of migraine with aura. By means of a transgenic mouse model generated in our group we are trying to evaluate the mechanisms underlying cortical hyperexcitability in FHM, with a focus on differential changes in migraine vs. epilepsy. This experimental research is carried out in close cooperation with the research group Experimental Epileptology. In addition we are planning translational pilot studies in affected patients aiming at acute and prophylactic treatment of FHM.
As a second focus, we are interested in the genetic basis of the common, genetically complex types of migraine. In the context of the International Headache Genetics Consortium (IHGC) we were prominently involved in the identification of all currently known risk variants for the sporadic types of migraine. Currently, we are using the available high-throughput datasets to gain a better understanding of common and clinically relevant comorbidities of migraine, with a special interest in the link between migraine and vascular disorders (e.g. ischemic stroke, cervical artery dissection etc.), which we are studying also in clinical studies. Finally, we try to correlate available datasets with clinically relevant aspects (e.g. medication response, chronicity) and have begun studying the genetic basis also of other primary headache disorders.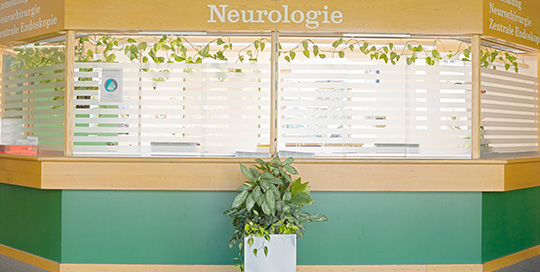 Our group is closely collaborating with our outpatient headache unit, performing clinical reseach projects and participating in clinical trials.
As a tertiary referral center, we see patients with all types of (primary) headache disorders. In addition, the unit offers specialized care to patients with rare subtypes of migraine, including hemiplegic migraine and related phenotypes (e.g. episodic ataxia type 2, CADASIL, RVCL etc.)
Institut für Schlaganfall- und Demenzforschung (ISD): Prof. Dr. N. Plesnila, Dr. R. Malilk, Prof. Dr. M. Dichgans
Institute of Human Genetics and Department of Neurology, Leiden University Medical Center: Prof. Dr. A. van den Maagdenberg, Prof. Dr. G. Terwindt, Prof. Dr. M. Ferrari
Institut für Humangenetik, Universitätsklinikum Hamburg-Eppendorf: Prof. Dr. C. Kubisch
Dichgans M†, Freilinger T†, Eckstein G, Babini E, Lorenz-Depiereux B, Biskup S, Ferrari MD, Herzog J, van den Maagdenberg AM, Pusch M, Strom TM. Mutation in the neuronal voltage-gated sodium channel SCN1A in familial hemiplegic migraine. Lancet 2005; 366(9483): 371-7. † equal contribution.
Malik R, Freilinger T, [...]. Assessment of the shared genetic basis between ischemic stroke and migraine. Neurology (in press).

Freilinger T. Genetik primärer Kopfschmerzen. Bundesgesundheitsblatt 2014; 57(8): 919-27.
Freilinger T, Anttila V, de Vries B et al. Genome-wide association analysis identifies susceptibility loci for migraine without aura. Nat Genetics 2012; 44(7): 777-782.
Anttila V, Winsvold B, ..., Freilinger T, Schoenen J, Frants R, et al. Genome-wide meta-analysis of 23 285 individuals with migraine. Nat Genet 2013; 45(8): 912-7.