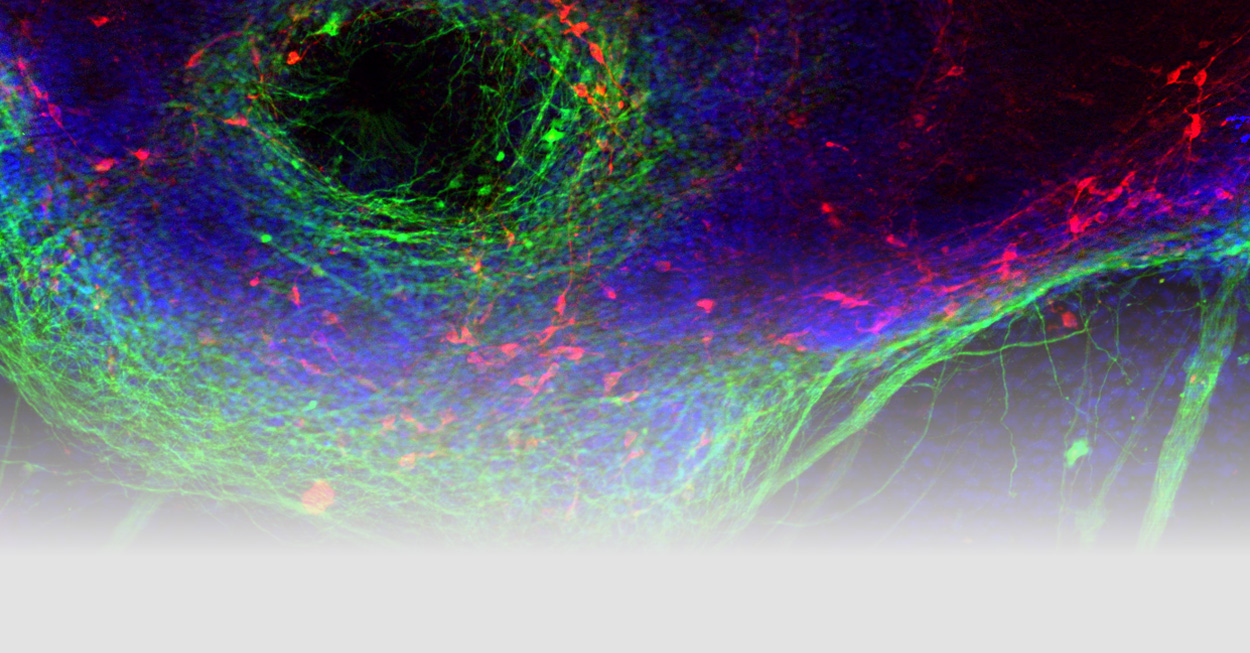 Altersbedingte neurodegenerative Erkrankungen sind eine schwere und zunehmend beunruhigende Belastung für unsere alternde Bevölkerung. Die meisten der chronischen neurodegenerativen Erkrankungen (Parkinson-Krankheit [PD], Lewy-Körper-Demenz [LBD], Alzheimer-Krankheit, frontotemporale Demenz [FTD], amyotrophe Lateralsklerose [ALS] usw.) sind durch intrazelluläre Proteineinschlüsse charakterisiert, die für jede dieser Krankheiten spezifisch sind. Wir untersuchen die strukturellen, molekularen, zellulären und histopathologischen Mechanismen, die der Aggregation des PD / DLB-assoziierten synaptischen Proteins α-Synuclein sowie der FTD / ALS-assoziierten Nukleinsäure-bindenden Proteine ​​TDP-43 und FUS / TLS zugrunde liegen. Pathologische Wege werden in Zellkultur und Tiermodellen (Mäuse und Fliegen) modelliert. Die untersuchten Mechanismen umfassen Proteinaggregation und Phosphorylierung, Neuroinflammation, Mitophagie und nuklearen Import. Wir wollen die molekulare Basis der bemerkenswerten Spezifität der intrazellulären Proteinaggregation verstehen, die bestimmte neuronale Subpopulationen abtötet, die die charakteristischen Syndrome neurodegenerativer Bewegungsstörungen und Demenzen verursachen.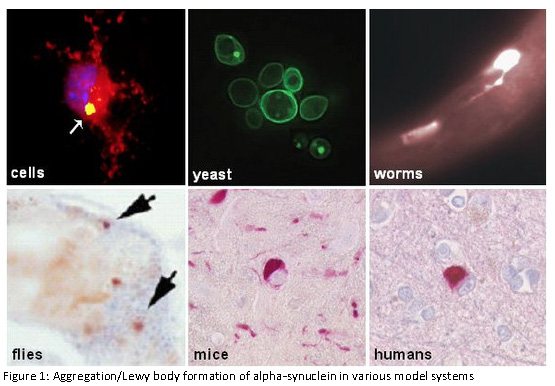 Die Forschungsgruppe wird gefördert vom Hertie-Institut und dem Deutschen Zentrum für Neurodegenerative Erkrankungen.
Characterization and Behavioural Consequences of α-Synucleinopathy in Transgenic Mice
We are using transgenic mice expressing human mutant A30P α-synuclein under the control of a Thy1 promoter, which recapitulate human α-synucleinopathy down to the ultrastructural level. Cognitive behavior of (Thy1)-h[A30P]αSYN mice is impaired in an age-dependent manner, most likely due to development of neuropathology and neuronal dysfunction within the amygdala circuitry (Schell et al. 2012). Moreover, old transgenic mice ultimately die of locomotor deterioration, caused by brain stem and spinal motoneuron pathology. The age of onset of this terminal phenotype is accelerated by high fat diet-induced obesity (Rotermund et al. 2014). We are further investigating neuroinflammatory and diabetic mechanisms involved in this process. This work is supported by the German Center for Neurodegenerative Diseases (DZNE).
Lewy-like neuropathology in transgenic mouse brain (immunostaining of α-synuclein phosphorylated at serine-129)
Regulation of leucine-rich repeat kinase 2 in macrophages
Missense mutations in the gene encoding leucine-rich repeat kinase 2 (LRRK2) are the most common cause of autosomal-dominant hereditary PD and a considerable genetic risk factor for sporadic PD. However, little is known about the molecular mechanisms of LRRK2 activation, and the biological role of LRRK2 is still largely unknown. Interestingly, a large amount of LRRK2 is expressed in the immune system. We found that LRRK2 induction by interferon-g in macrophages is mediated via a signal transduction pathway dependent on the extracellular signal-regulated kinase 5 (Kuss et al. 2014). We are currently investigating the cellular functions of LRRK2 in stimulated macrophages. This work is supported by the Michael J. Fox Foundation.
Regulation and Cellular Effects of Parkin E3 Ubiquitin Ligase Activities
Most of the familial PD cases are caused by recessive mutations in the PARK2/PARKIN gene, which may also be a genetic risk factor for sporadic PD. The PARKIN gene product functions as an E3 ubiquitin protein ligase for a variety of unrelated substrate proteins. We investigate the role of parkin in the autophagic degradation of damaged mitochondria. Parkin is recruited to experimentally depolarized mitochondria in a PINK1-dependent manner, which is differentially affected by PD mutations in both genes (Geisler et al. 2010). Parkin ubiquitinylates a distinct set of mitochondrial outer membrane protein in a highly complex manner. We identified a set of E2 ubiquitin-conjugating enzymes that mediate such reactions (Geisler et al. 2014). We are further investigating the complex regulation of PINK1/parkin-regulated mitophagy, also using high content imaging. This work is supported by the German Center for Neurodegenerative Diseases).
Cell Biology of the FTD/ALS Associated Nuclear Splice Factors TDP-43 and FUS
TDP-43 and FUS/TLS in cytosolic and nuclear inclusions were recently identified as neuropathological hallmarks of frontotemporal dementia (FTD) and amyotrophic lateral sklerosis (ALS). It is to show now if the cytosolic aggregates are actively neurotoxic or if their cytosolic sequestration of these nuclear proteins deprives neurons of vital RNA processing factors. To identify novel target genes, we conducted expression profiling studies after RNA interference. We have identified the intracellular transport protein histone deacetylase 6 and the exon junction complex component SKAR as novel TDP-43 target mRNAs and validated them structurally and functionally in non-neuronal and neuronal cells treated with siRNA and lentiviral shRNA vectors as well as in TDP-43 mutant animal models (Fiesel et al. 2010 and 2011). We unraveled the regulation of ubiquitinylation of TDP-43 by UBE3E ubiquitin-conjugating enzymes and the ubiquitin isopeptidase UBPY, and studied the effects on TDP-43 aggregation and neurotoxicity in Drosophila (Hans et al. 2014). Additional yeast 2-hybrid interactor proteins of TDP-43 and FUS are being investigated. A first report showing modifier effects for FUS nuclear import regulatory proteins (transportin and protein arginine methyltransferase 1) has just appeared (Jäckel et al. 2015). This work is supported by the German Research Council (DFG) and the German Center for Neurodegenerative Disease (DZNE).




Ausgewählte aktuelle Originalartikel
Jäckel, S., Summerer, A. K., Thömmes, C. M., Pan, X., Voigt, A., Schulz, J. B., Rasse, T. M., Dormann, D., Haass, C., and Kahle, P. J. (2015) Nuclear import factor transportin amd arginine methyltransferase 1 modify FUS neurotoxicity in Drosophila. Neurobiol. Dis. 74, 76-88
Rotermund, C., Truckenmüller, F. M., Schell, H., and Kahle, P. J. (2014) Diet-induced obesity accelerates the onset of terminal phenotypes in a-synuclein transgenic mice. J. Neurochem. 131, 848-858
Geisler, S., Vollmer, S., Golombek, S., and Kahle, P. J. (2014) UBE2N, UBE2L3 and UBE2D2/3 ubiquitin-conjugating enzymes are essential for parkin-dependent mitophagy. J. Cell Sci. 127, 3280-3293
Hans, F., Fiesel, F. C., Strong, J. C., Jäckel, S., Rasse, T. M., Geisler, S., Springer, W., Schulz, J. B., Voigt, A., and Kahle, P. J. (2014) UBE2E ubiquitin-conjugating enzymes and ubiquitin isopeptidase Y regulate TDP-43 protein ubiquitination. J. Biol. Chem. 289, 19164-19179
Kuss, M., Adamopoulou, E., and Kahle, P. J. (2014) Interferon-gamma induces leucine-rich repeat kinase LRRK2 via extracellular signal-regulated kinase ERK5 in macrophages. J. Neurochem. 129, 980-987
Schell, H., Boden, C., Maia Chagas, A., and Kahle, P. J. (2012) Impaired c-Fos and polo-like kinase 2 induction in the limbic system of fear-conditioned alpha-synuclein transgenic mice. PLoS ONE 7, e50245
Fiesel, F. C., Weber, S. S., Supper, J., Zell, A., and Kahle, P. J. (2011) TDP-43 regulates global translational yield by splicing of exon junction complex component SKAR. Nucleic Acids Res. 40, 2668-2682
Geisler, S., Holmström, K. M., Treis, A., Skujat, D., Weber, S. S., Fiesel, F. C., Kahle, P. J., and Springer, W. (2010) The PINK1/parkin-mediated mitophagy is compromised by PD-associated mutations. Autophagy 6, 871-878
Geisler, S., Holmström, K. M., Skujat, D., Fiesel, F. C., Rothfuss, O. C., Kahle, P. J., and Springer, W. (2010). PINK1/Parkin-mediated mitophagy is dependent on VDAC1 and p62/SQSTM1. Nat. Cell Biol. 12, 119-131
Fiesel, F. C., Voigt, A., Weber, S. S., Van den Heute, C., Waldenmaier, A., Görner, K., Walter, M., Anderson, M. L., Kern, J. V., Rasse, T. M., Schmidt, T., Springer, W., Kirchner, R., Bonin, M., Neumann, M., Baekelandt, V., Alunni-Fabbroni, M., Schulz, J. B., and Kahle, P. J. (2010) Knockdown of transactive response DNA-binding protein (TDP-43) downregulates histone deacetylase 6. EMBO J. 29, 209-221
Forschungsgruppenleitung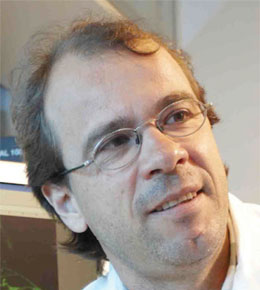 Prof. Philipp Kahle
Philipp.Kahle(at)uni-tuebingen.de
Anschrift
Zentrum für Neurologie
Hertie-Institut für klinische Hirnforschung
Abteilung Neurologie mit Schwerpunkt neurodegenerative Erkrankungen
Otfried-Müller-Straße 27
72076 Tübingen
Tel.: +49 (0)7071 29-81970
Fax: +49 (0)7071 29-4620