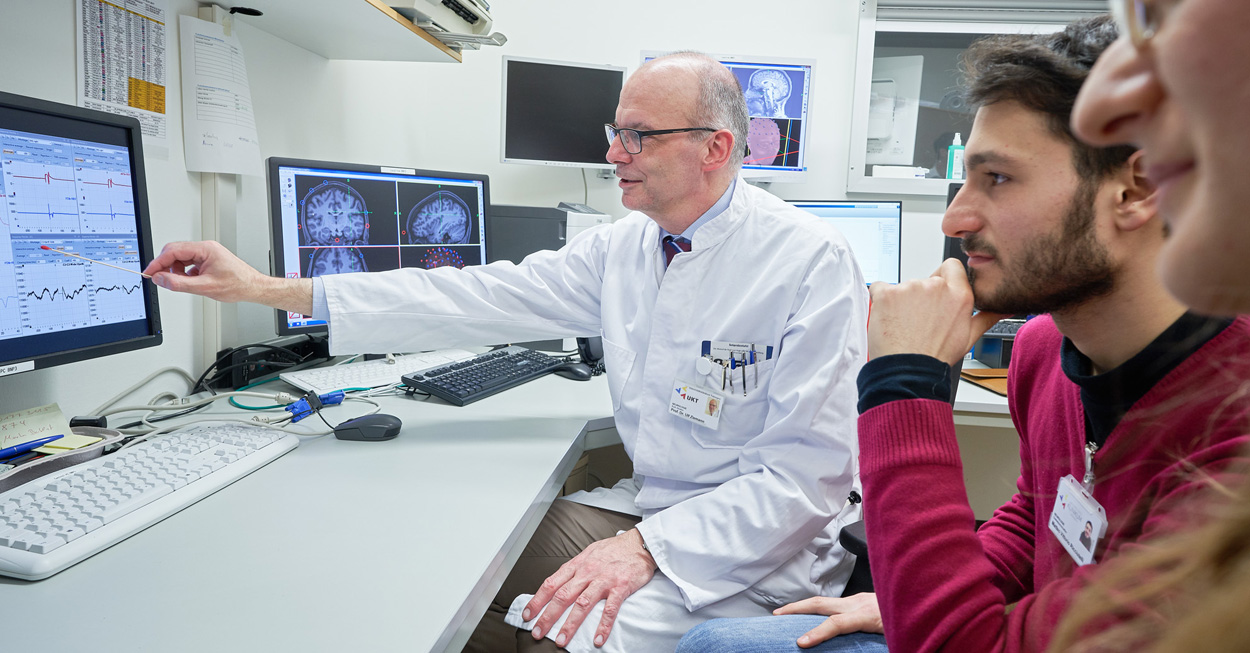 Das menschliche Gehirn besitzt eine erstaunliche Fähigkeit zur Reorganisation, die Voraussetzung für die Anpassung an sich ständig ändernde Umweltbedingungen ist. Diese Fähigkeit zur Plastizität ist von herausragender Bedeutung für Erholungsprozesse nach Schädigungen des Gehirns, wie einem Schlaganfall.

Das prioritäre Interesse unserer Forschungsgruppe liegt darin, das Verständnis der Grundlagen von Plastizität der Hirnrinde auf systemneurowissenschaftlicher Ebene weiter zu verbessern. Im Besonderen sind wir darin interessiert zu verstehen welche Mechanismen von Plastizität Lernen im gesunden Gehirn und Wiedererlernen verlorengegangener Fertigkeiten im geschädigten Gehirn nach Schlaganfall unterliegen.

Wie verändern sich Netzwerke des Gehirns nach Schädigung um Funktionsdefizite auszugleichen? Kann der Erkenntniszuwachs über diese Zusammenhänge genutzt werden, um den Rehabilitationserfolg eines einzelnen Patienten vorherzusagen und/oder durch gezielte Intervention zu verbessern? Wir adressieren diese Fragen mit moderner Bildgebung (funktionelle Magnetresonanztomographie, Diffusionstensor-Bildgebung), elektrophysiologischen Methoden (EMG, EEG, MEG) in Kombination mit nicht-invasiver Hirnstimulation (transkranielle Magnetstimulation, transkranielle Gleichstromstimulation) und Neuropharmakologie. Unser Ziel ist, innovative und effektive neurorehabilitative Strategien, zu entwickeln, die einen relevanten Fortschritt bei der Rehabilitationsbehandlung, von Patienten mit neurologischen, insbesondere neurovaskulären Erkrankungen bedeuten.
Pharmakologische Modulation von TMS-evozierten EEG Antworten


Die Möglichkeit, mittels transkranieller Magnetstimulation (TMS) Hirnfunktionen bei gesunden Probanden und Patienten mit Hirnschädigungen zu verstehen, kann durch die Kombination mit anderen elektrophysiologischen und bildgebenden Methoden oder durch die Kombination von TMS mit einer pharmakologischen Exposition deutlich verbessert werden. Insbesondere die zeitgleiche Aufzeichnung von Hirnströmen mittels EEG erlaubt es, die Effekte von TMS auf das Gehirn mit guter räumlicher und exzellenter zeitlicher Auflösung direkt zu untersuchen.
TMS-evozierte Potentiale (TEP) nach einer Einzelpuls-TMS des primären Motorkortex können sowohl an der Stimulationsstelle als auch in entfernten Gehirnregionen für bis zu 300ms nach dem Stimulus aufgezeichnet werden. Die zugrunde liegenden physiologischen Mechanismen der TEP sind jedoch nicht gut verstanden.
In diesem Projekt sollen die physiologischen Mechanismen von TMS-evozierten EEG Ableitungen durch eine pharmakologische Modulation von GABAerger Neurotransmission näher charakterisiert werden.
Modulation des kortikalen Motornetzwerkes durch
Mehrspulen-TMS

Die koordinierte neuronale Aktivität in weit verzweigten Netzwerken des Gehirns ist die Basis für höhere kognitive Funktionen und komplexe sensomotorische Fähigkeiten. Im motorischen Funktionssystem bilden zahlreiche Hirnareale wie der dorsale prämotorische Kortex, der ventrale prämotorische Kortex, das supplementärmotorische Areal, der Parietalkortex, die Basalganglien und das Kleinhirn zusammen mit dem primären Motorkortex ein motorisches Netzwerk.
Neuronale Koordination ist hochgradig dynamisch und hängt sowohl von der motorischen Aufgabe als auch vom Zustand des Gehirns ab. Zudem ist die effektive Konnektivität im motorischen Netzwerk des Gehirns nach einer Hirnschädigung (z.B. durch einen Schlaganfall) stark verändert. Entscheidend ist hierbei, dass Änderungen der Netzwerkarchitektur mit Veränderungen von motorischen Fähigkeiten korrelieren.
In diesem Projekt nutzen wir Mehrspulen-TMS, um effektive Konnektivitäten im kortikalen Motornetzwerk gezielt zu modifizieren und untersuchen die Effekte auf motorische Fähigkeiten und Lernen.
Reorganisation von zerebralen Netzwerken bei Multipler Sklerose

Bei der Multiplen Sklerose (MS) kommt es zum Auftreten von multiplen entzündlichen ZNS-Läsionen, wodurch zerebrale Netzwerke signifikant gestört werden können. Im Gegensatz zu einer akut auftretenden Hirnschädigung wie bei einem Schlaganfall entwickeln sich diese Läsionen über die Zeit hinweg, so dass dem Gehirn mehr Zeit bleibt, sich zu reorganisieren und zu kompensieren. Dennoch zeigen sich klinisch bereits in einem frühen Erkrankungsstadium häufig Einschränkungen in kognitiven Funktionen wie Aufmerksamkeit und Gedächtnis.
Im Rahmen dieses Projektes sollen Veränderungen zerebraler Netzwerke bei Patienten mit MS mittels fMRT und MEG dargestellt und deren Einfluss auf kognitive Funktionen untersucht werden. Diese Untersuchungen erlauben potentiell auch eine neurobiologische Charakterisierung der Wirkung von immunmodulierenden Medikamenten sowie die Identifizierung von Biomarkern zur Therapieüberwachung.


Closed-Loop-Stimulation



Wir untersuchen die Zusammenhänge zwischen dem augenblicklichen Zustand kognitiver Prozesse und der kortikalen Informationsverarbeitung. Ein gleichzeitiger EEG-TMS Aufbau mit echtzeit Signalanalyse ermöglicht eine EEG-gesteuerte Auslösung der Stimulus-Pulse mit deterministischen Latenzen von unter 3 Millisekunden. Unsere initialen Experimente untersuchen den Einfluss der Phase von kortikaler EEG-Alpha Aktivität während der TMS-Pulse auf die kortikospinale Erregbarkeit und Plastizität. Im Rahmen eines Translationsforschungsprojektes entwickeln wir basierend auf diesen Ansatz neue und effektivere, therapeutische EEG-gesteuerte TMS-Protokolle für die Neurorehabilitation.

Lokale Kooperationspartner
Prof. Christoph Braun
MEG-Zentrum, Universitätsklinikum Tübingen



Prof. Alireza Gharabaghi, Dr. Paolo Belardinelli
Klinik für Neurochirurgie, Universitätsklinikum Tübingen



Prof. Klaus Scheffler
Max-Planck-Institut für biologische Kybernetik
Prof. Cornelius Schwarz
Center for Integrative Neuroscience (CIN)
Prof. Markus Siegel
MEG-Zentrum, Universitätsklinikum Tübingen


Nationale Kooperationspartner
Dipl. Psych. Daniel Scholz, Prof. Eckart Altenmüller
Institut für Musikphysiologie und Musikermedizin, Hochschule für Musik, Theater und Medien, Hannover


Dr. Andreas Vlachos, Dr. Peter Jedlicka, Prof. Thomas Deller
Institut für Klinische Neuroanatomie, Goethe-Universität Frankfurt



Internationale Kooperationspartner

Prof. Vincenzo di Lazzaro
Institute of Neurology, Campus BioMedico University, Rom, Italien


Prof. John Rothwell
Sobell Department of Motor Neuroscience and Movement Disorders, UCL Institute of Neurology, Queen Square, London WC1N 3BG, United Kingdom
Prof. Hartwig Siebner, Prof. Axel Thielscher
Danish Research Centre for Magnetic Resonance, Center for Functional and Diagnostic Imaging and Research, Copenhagen University Hospital Hvidovre, Hvidovre, Dänemark


Dr. Cathy Stinear, Prof. Winston Byblow
Department of Sport and Exercise Science and Centre for Brain Research, University of Auckland, Neuseeland
Ausgewählte Originalarbeiten (seit 2008)
2019
Darmani G, Ziemann U (2019). Pharmacophysiology of TMS-evoked EEG potentials: A mini-review. Brain Stimul.;12(3):829-831. doi: 10.1016/j.brs.2019.02.021. Epub 2019 Feb 25
2018
Zrenner C, Desideri D, Belardinelli P, Ziemann U (2018). Real-time EEG-defined excitability states determine efficacy of TMS-induced plasticity in human motor cortex. Brain Stimul.;11(2):374-389. doi: 10.1016/j.brs.2017.11.016. Epub 2017 Nov 24.
Stecker M, Pasqualetti P, Barry RJ, Daskalakis ZJ, Siebner HR, Ziemann U (2018). Reply to "is it significant? Is it relevant?" Clin Neurophysiol.;129(4):887. doi: 10.1016/j.clinph.2018.01.011. Epub 2018 Feb 2
Velázquez-Pérez L, Rodríguez-Labrada R, Torres-Vega R, Ortega-Sánchez R, Medrano-Montero J, González-Piña R, Vázquez-Mojena Y, Auburger G, Ziemann U (2018). Progression of corticospinal tract dysfunction in pre-ataxic spinocerebellar ataxia type 2: A two-years follow-up TMS study. Clin Neurophysiol.;129(5):895-900. doi: 10.1016/j.clinph.2018.01.066. Epub 2018 Mar 15.
Gordon PC, Zrenner C, Desideri D, Belardinelli P, Zrenner B, Brunoni AR, Ziemann U (2018). Modulation of cortical responses by transcranial direct current stimulation of dorsolateral prefrontal cortex: A resting-state EEG and TMS-EEG study. Brain Stimul.;11(5):1024-1032. doi: 10.1016/j.brs.2018.06.004.
Rodríguez-Labrada R, Velázquez-Pérez L, Ziemann U (2018). Transcranial magnetic stimulation in hereditary ataxias: Diagnostic utility, pathophysiological insight and treatment. Clin Neurophysiol.;129(8):1688-1698. doi: 10.1016/j.clinph.2018.06.003. Epub 2018 Jun 15.
Gordon PC, Desideri D, Belardinelli P, Zrenner C, Ziemann U (2018). Comparison of cortical EEG responses to realistic sham versus real TMS of human motor cortex. Brain Stimul.;11(6):1322-1330. doi: 10.1016/j.brs.2018.08.003. Epub 2018 Aug 16.
Stefanou, M. I., Desideri, D., Belardinelli, P., Zrenner, C., & Ziemann, U. (2018). Phase Synchronicity of μ-Rhythm Determines Efficacy of Interhemispheric Communication Between Human Motor Cortices. The Journal of neuroscience : the official journal of the Society for Neuroscience, 38(49), 10525–10534. doi:10.1523/JNEUROSCI.1470-18.201
2017
Velázquez-Pérez L, Tünnerhoff J, Rodríguez-Labrada R, Torres-Vega R, Belardinelli P, Medrano-Montero J, Peña-Acosta A, Canales-Ochoa N, Vázquez-Mojena Y, González-Zaldivar Y, Auburger G, Ziemann U. (2017) Corticomuscular Coherence: a Novel Tool to Assess the Pyramidal Tract Dysfunction in Spinocerebellar Ataxia Type 2. Cerebellum;16(2):602-606. doi: 10.1007/s12311-016-0827-4.
Ziemann U (2017). Thirty years of transcranial magnetic stimulation: where do we stand? (2017) Exp Brain Res. 2017 Apr;235(4):973-984. doi: 10.1007/s00221-016-4865-4. Epub 2017 Jan 25.
Faber H, Opitz A, Müller-Dahlhaus F, Ziemann U (2017). Polarity-independent effects of tDCS on paired associative stimulation-induced plasticity. Brain Stimul.;10(6):1061-1069. doi: 10.1016/j.brs.2017.07.010. Epub 2017 Jul 27.
Stecker M, Pasqualetti P, Barry RJ, Daskalakis ZJ, Siebner HR, Ziemann U (2017). Statistical data analyses for clinical neurophysiology. Clin Neurophysiol.;128(10):1837-1838. doi: 10.1016/j.clinph.2017.07.396. Epub 2017 Jul 22.
Premoli I, Bergmann TO, Fecchio M, Rosanova M, Biondi A, Belardinelli P, Ziemann U (2017). The impact of GABAergic drugs on TMS-induced brain oscillations in human motor cortex. Neuroimage;163:1-12. doi: 10.1016/j.neuroimage.2017.09.023. Epub 2017 Sep 14.
Velázquez-Pérez L, Tünnerhoff J, Rodríguez-Labrada R, Torres-Vega R, Ruiz-Gonzalez Y, Belardinelli P, Medrano-Montero J, Canales-Ochoa N, González-Zaldivar Y, Vazquez-Mojena Y, Auburger G, Ziemann U (2017). Early corticospinal tract damage in prodromal SCA2 revealed by EEG-EMG and EMG-EMG coherence. Clin Neurophysiol.;128(12):2493-2502. doi: 10.1016/j.clinph.2017.10.009

Stefanou MI, Desideri D, Marquetand J, Belardinelli P, Zrenner C, Lerche H, Ziemann U. (2017). Motor cortex excitability in seizure-free STX1B mutation carriers with a history of epilepsy and febrile seizures. Clin Neurophysiol.;128(12):2503-2509. doi: 10.1016/j.clinph.2017.10.008. Epub 2017 Oct 20.
Ziemann U (2017). First virtual special issue (VSI) in Clinical Neurophysiology: A novel way of enhancing accessibility and visibility of published research. Clin Neurophysiol.;128(12):2527. doi: 10.1016/j.clinph.2017.11.001
2016
Ziemann U (2016). Clinical Neurophysiology--From present to future. Clin Neurophysiol.;127(1):1-2. doi: 10.1016/j.clinph.2015.10.048. Epub 2015 Nov 10.
2015
Murakami T, Kell CA, Restle J, Ugawa Y, Ziemann U. Left dorsal speech stream components and their contribution to phonological processing. J Neurosci 35:1411-1422

Fuhl A, Müller-Dahlhaus F, Lücke C, Tönnies SW, Ziemann U. Low doses of ethanol enhance LTD-like plasticity in human motor cortex. Neuropsychopharmacology, doi: 10.1038/npp.2015.151

Ziemann U, Siebner H. Inter-Subject and Inter-Session Variability of Plasticity Induction by Non-Invasive Brain Stimulation: Boon or Bane? Brain Stimulation 8: 662-663
2014
Ziemann U, Reis J, Schwenkreis P, Rosanova M, Strafella A, Badawy R, Muller-Dahlhaus FTMS and drugs revisited 2014
Clin Neurophysiol (doi: 10.1016/j.clinph.2014.08.028)
Di Pino G, Pellegrino G, Assenza G, Capone F, Ferreri F, Formica D, Ranieri F, Tombini M, Ziemann U, Rothwell JC, Di Lazzaro V
Modulation of brain plasticity in stroke: a novel model for neurorehabilitation
Nature reviews Neurology 10:597-608
Müller-Dahlhaus F, Ziemann U
Metaplasticity in Human Cortex
The Neuroscientist (doi: 10.1177/1073858414526645)
Goldsworthy MR, Müller-Dahlhaus F, Ridding MC, Ziemann U
Inter-subject Variability of LTD-like Plasticity in Human Motor Cortex: A Matter of Preceding Motor Activation
Brain Stimulation 7:864-870
Hamada M, Galea JM, Di Lazzaro V, Mazzone P, Ziemann U, Rothwell JC
Two distinct interneuron circuits in human motor cortex are linked to different subsets of physiological and behavioral plasticity
J Neurosci 34:12837-12849
Cash RF, Murakami T, Chen R, Thickbroom GW, Ziemann U
Augmenting Plasticity Induction in Human Motor Cortex by Disinhibition Stimulation
Cereb Cortex (doi: 10.1093/cercor/bhu176)
Lenz M, Platschek S, Priesemann V, Becker D, Willems LM, Ziemann U, Deller T, Muller-Dahlhaus F, Jedlicka P, Vlachos A
Repetitive magnetic stimulation induces plasticity of excitatory postsynapses on proximal dendrites of cultured mouse CA1 pyramidal neurons
Brain Structure & Function (10.1007/s00429-014-0859-9)
Premoli I, Rivolta D, Espenhahn S, Castellanos N, Belardinelli P, Ziemann U, Müller-Dahlhaus F Characterization of GABAB-receptor mediated neurotransmission in the human cortex by paired-pulse TMS-EEG
NeuroImage 103C:152-162.
Premoli I, Castellanos N, Rivolta D, Belardinelli P, Bajo R, Zipser C, Espenhahn S, Heidegger T, Müller-Dahlhaus F, Ziemann U
TMS-EEG signatures of GABAergic neurotransmission in the human cortex
J Neurosci 34:5603–5612
Gharabaghi A, Kraus D, Leao MT, Spüler M, Walter A, Bogdan M, Rosenstiel W, Naros G, Ziemann U
Coupling brain-machine interfaces with cortical stimulation for brain-state dependent stimulation: enhancing motor cortex excitability for neurorehabilitation
Front Hum Neurosci (8:122)
Lücke C, Heidegger T, Röhner M, Toennes SW, Krivanekova L, Müller-Dahlhaus F, Ziemann U
Deleterious effects of a low amount of ethanol on LTP-like plasticity in human cortex
Neuropsychopharmacol 39:1508-1518
Goldsworthy M, Müller-Dahlhaus F, Ridding M, Ziemann U
Resistant against de-depression: LTD-like plasticity in the human motor cortex induced by spaced cTBS
Cereb Cortex (doi:10.1093/cercor/bht353)
Grimaldi G, Argyropoulos GP, Boehringer A, Celnik P, Edwards MJ, Ferrucci R, Galea JM, Groiss SJ, Hiraoka K, Kassavetis P, Lesage E, Manto M, Miall RC, Priori A, Sadnicka A, Ugawa Y, Ziemann U
Non-invasive Cerebellar Stimulation - a Consensus Paper
Cerebellum 13(1):121-38
Rusu CV, Murakami M, Ziemann U, Triesch J
A model of TMS-induced I-waves in Motor Cortex
Brain Stim 7:401-414
2013
Kriváneková L, Baudrexel S, Bliem B, Ziemann U
Relation of brain stimulation induced changes in MEP amplitude and BOLD signal

Brain Stimul 6:330-9
Di Lazzaro V, Ziemann U
The contribution of transcranial magnetic stimulation in the functional evaluation of microcircuits in human motor cortex

Front Neural Circuits 7:18
Delvendahl I, Lindemann H, Heidegger T, Normann C, Ziemann U, Mall V
Effects of lamotrigine on human motor cortex plasticity

Clin Neurophysiol 124:148-53
2012
Vlachos A, Müller-Dahlhaus F, Rosskopp J, Lenz M, Ziemann U, Deller T
Repetitive magnetic stimulation induces functional and structural plasticity of excitatory postsynapses in mouse organotypic hippocampal slice cultures

J Neurosci 32:17514-23
Helfrich C, Pierau SS, Freitag CM, Roeper J, Ziemann U, Bender SMonitoring cortical excitability during repetitive transcranial magnetic stimulation in children with ADHD: a single-blind, sham-controlled TMS-EEG study
PLoS One 7:e50073
Lu MK, Tsai CH, Ziemann U
Cerebellum to motor cortex paired associative stimulation induces bidirectional STDP-like plasticity in human motor cortex
Front Hum Neurosci 6:260
Murakami T, Müller-Dahlhaus F, Lu MK, Ziemann U
Homeostatic metaplasticity of corticospinal excitatory and intracortical inhibitory neural circuits in human motor cortex

J Physiol 590:5765-81
Restle J, Murakami T, Ziemann U
Facilitation of speech repetition accuracy by theta burst stimulation of the left posterior inferior frontal gyrus

Neuropsychologia 50:2026-31
Jung P, Klein JC, Wibral M, Hoechstetter K, Bliem B, Lu MK, Wahl M, Ziemann U
Spatiotemporal dynamics of bimanual integration in human somatosensory cortex and their relevance to bimanual object manipulation

J Neurosci 32:5667-77
Voytovych H, Kriváneková L, Ziemann U
Lithium: a switch from LTD- to LTP-like plasticity in human cortex.

Neuropharmacology 63:274-9
Hübers A, Klein JC, Kang JS, Hilker R, Ziemann U
The relationship between TMS measures of functional properties and DTI measures of microstructure of the corticospinal tract

Brain Stimul 5:297-304
Murakami T, Restle J, Ziemann U
Effective connectivity hierarchically links temporoparietal and frontal areas of the auditory dorsal stream with the motor cortex lip area during speech perception.

Brain Lang 122:135-41
Volz S, Nöth U, Jurcoane A, Ziemann U, Hattingen E, Deichmann R
Quantitative proton density mapping: correcting the receiver sensitivity bias via pseudo proton densities

Neuroimage 63:540-52
2011
Arai N, Müller-Dahlhaus F, Murakami T, Bliem B, Lu MK, Ugawa Y, Ziemann U
State-dependent and timing-dependent bidirectional associative plasticity in the human SMA-M1 network
J Neurosci 31:15376-83
Kriváneková L, Lu MK, Bliem B, Ziemann U
Modulation of excitability in human primary somatosensory and motor cortex by paired associative stimulation targeting the primary somatosensory cortex.

Eur J Neurosci 34:1292-300
Hattingen E, Magerkurth J, Pilatus U, Hübers A, Wahl M, Ziemann U
Combined (1)H and (31)P spectroscopy provides new insights into the pathobiochemistry of brain damage in multiple sclerosis
NMR Biomed 24:536-46
Korchounov A, Ziemann U
Neuromodulatory neurotransmitters influence LTP-like plasticity in human cortex: a pharmaco-TMS study
Neuropsychopharmacology 36:1894-902
Wahl M, Hübers A, Lauterbach-Soon B, Hattingen E, Jung P, Cohen LG, Ziemann U
Motor callosal disconnection in early relapsing-remitting multiple sclerosis

Hum Brain Mapp 32:846-55
Murakami T, Restle J, Ziemann U
Observation-execution matching and action inhibition in human primary motor cortex during viewing of speech-related lip movements or listening to speech

Neuropsychologia 49:2045-54
Lu MK, Arai N, Tsai CH, Ziemann U
Movement related cortical potentials of cued versus self-initiated movements: double dissociated modulation by dorsal premotor cortex versus supplementary motor area rTMS

Hum Brain Mapp 33:824-39
Kang JS, Terranova C, Hilker R, Quartarone A, Ziemann U
Deficient homeostatic regulation of practice-dependent plasticity in writer's cramp

Cereb Cortex 21:1203-12
2010
Heidegger T, Krakow K, Ziemann U
Effects of antiepileptic drugs on associative LTP-like plasticity in human motor cortex

Eur J Neurosci 32:1215-22
Szelényi A, Hattingen E, Weidauer S, Seifert V, Ziemann U
Intraoperative motor evoked potential alteration in intracranial tumor surgery and its relation to signal alteration in postoperative magnetic resonance imaging

Neurosurgery 67:302-13
Wagner M, du Mesnil de Rochemont R, Ziemann U, Hattingen E
Localization of thoracic CSF leaks by gadolinium-enhanced MR-myelography and successful MR-targeted epidural blood patching: a case report

J Neurol 257:1398-9
Lu MK, Jung P, Bliem B, Shih HT, Hseu YT, Yang YW, Ziemann U, Tsai CH
The Bereitschaftspotential in essential tremor
Clin Neurophysiol 121:622-30
2009
Alle H, Heidegger T, Kriváneková L, Ziemann U
Interactions between short-interval intracortical inhibition and short-latency afferent inhibition in human motor cortex

J Physiol 587:5163-76
Jung P, Ziemann U
Homeostatic and nonhomeostatic modulation of learning in human motor cortex

J Neurosci 29:5597-604
Lu MK, Bliem B, Jung P, Arai N, Tsai CH, Ziemann U
Modulation of preparatory volitional motor cortical activity by paired associative transcranial magnetic stimulation
Hum Brain Mapp 30:3645-56
Möller C, Arai N, Lücke J, Ziemann U
Hysteresis effects on the input-output curve of motor evoked potentials

Clin Neurophysiol 120:1003-8
2008
Peurala SH, Müller-Dahlhaus JFM, Arai N, Ziemann U
Interference of short-interval intracortical inhibition (SICI) and short-interval intracortical facilitation (SICF)
Clin Neurophysiol 119:2291-7
Hübers A, Orekhov Y, Ziemann U
Interhemispheric motor inhibition: its role in controlling electromyographic mirror activity
Eur J Neurosci 28:364-71
Müller-Dahlhaus JFM, Liu Y, Ziemann U
Inhibitory circuits and the nature of their interactions in the human motor cortex: a pharmacological TMS study

J Physiol 586:495-514
Müller-Dahlhaus JFM, Orekhov Y, Liu Y, Ziemann U
Interindividual variability and age-dependency of motor cortical plasticity induced by paired associative stimulation

Exp Brain Res 187:467-75
Bliem B, Müller-Dahlhaus JFM, Dinse HR, Ziemann U
Homeostatic metaplasticity in human somatosensory cortex

J Cogn Neurosci 20:1517-28
----------------------
Review-Artikel
Ausgewählte Review-Artikel (seit 2008)
2014
Müller-Dahlhaus F, Ziemann UMetaplasticity in human cortexNeuroscientist (doi: 10.1177/1073858414526645)
2013
Müller-Dahlhaus F, Vlachos A
Unraveling the cellular and molecular mechanisms of repetitive magnetic stimulation
Front Mol Neurosci 6: 50
2012
Nitsche MA, Müller-Dahlhaus F, Paulus W, Ziemann UThe pharmacology of neuroplasticity induced by non-invasive brain stimulation: building models for the clinical use of CNS active drugsJ Physiol 590:4641-62
2011
Ni Z, Müller-Dahlhaus F, Chen R, Ziemann U
Triple-pulse TMS to study interactions between neural circuits in human cortex
Brain Stim 4:281-93
Ziemann U, Wahl M, Hattingen E, Tumani H
Development of biomarkers for multiple sclerosis as a neurodegenerative disorder
Prog Neurobiol 95:670-85
Ziemann U
Transcranial magnetic stimulation at the interface with other techniques: a powerful tool for studying the human cortex
Neuroscientist 17:368-81
2010
Müller-Dahlhaus F, Ziemann U, Classen J
Plasticity resembling spike-timing dependent synaptic plasticity: the evidence in human cortex
Front Syn Neurosci 2:34
2008
Di Lazzaro V, Ziemann U, Lemon RN
State of the art: Physiology of transcranial motor cortex stimulation
Brain Stimul 1:345-62
Paulus W, Classen J, Cohen LG, Large CH, Di Lazzaro V, Nitsche M, Pascual-Leone A, Rosenow F, Rothwell JC, Ziemann U
State of the art: Pharmacologic effects on cortical excitability measures tested by transcranial magnetic stimulation
Brain Stimul 1:151-63
Leitung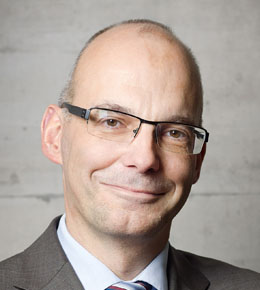 Prof. Ulf Ziemann
ulf.ziemann@med.uni-tuebingen.de
Anschrift
Zentrum für Neurologie
Hertie-Institut für klinische Hirnforschung
Abteilung Neurologie mit Schwerpunkt neurovaskuläre Erkrankungen
Hoppe-Seyler-Str. 3
72076 Tübingen