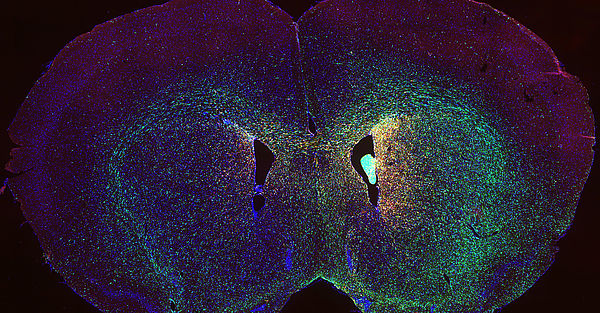 Ten most important papers (first or senior authorship)
Gugel I, Ebner FH, Grimm F, Czemmel S, Paulsen F, Hagel C, Tatagiba M, Nahnsen S, Tabatabai G (2020) Contribution of mTOR and PTEN to Radioresistance in Sporadic and NF2-Associated Vestibular Schwannomas: A Microarray and Pathway Analysis.
Cancers (Basel) 10;12(1):177 (IF 2018: 6.2)
Schittenhelm J, Krischker N, Gepfner-Tuma I, Behling F, Noell S, Eckert F, Biskup S, Tabatabai G (2019) Oncogenic KRAS hotspot mutations are rare in IDH-mutant gliomas.
Brain Pathol 29(3):321-324 (IF 2018: 6.1)
Rajaraman S, Canjuga D, Ghosh M, Codrea MC, Sieger R, Wedekink F, Tatagiba M, Koch M, Lauer UM, Nahnsen S, Rammensee HG, Mühlebach MD, Stevanovic S, Tabatabai G (2018) Measles Virus-Based Treatments Trigger a Pro-inflammatory Cascade and a Distinctive Immunopeptidome in Glioblastoma.
Mol Ther Oncolytics 12:147-161 (IF 2018: 5.7)
Skardelly M, Brendle E, Noell S, Behling F, Wuttke TV, Schittenhelm J, Bisdas S, Meisner C, Rona S, Tatagiba MS, Tabatabai G (2015) Predictors of preoperative and early postoperative seizures in patients with intra-axial primary and metastatic brain tumors: A retrospective observational single center study.
Ann Neurol 78(6):917-28 (IF 2018: 9.5)
Wirsching HG, Krishnan S, Florea AM, Frei K, Krayenbühl N, Hasenbach K, Reifenberger G, Weller M, Tabatabai G (2014) Thymosin β 4 gene silencing decreases stemness and invasiveness in glioblastoma.
Brain 137: 433-48 (IF 2018: 11.8)
Hasenbach K, Wiehr S, Herrmann C, Mannheim J, Cay F, von Kürthy G, Bolmont T, Grathwohl SA, Weller M, Lengerke C, Pichler B, Tabatabai G (2012) Monitoring the glioma tropism of bone marrow-derived progenitor cells by two-photon laser scanning microscopy and positron emission tomography.
Neuro Oncol 12:302-307 (IF 2018: 10.1)
Tabatabai G, Herrmann C, von Kürthy G, Mittelbronn M, Grau S, Frank B, Möhle R, Weller M, Wick W (2008) VEGF-dependent induction of CD62E on endothelial cells mediates glioma tropism of adult hematopoietic progenitor cells.
Brain 131: 2579-2595 (IF 2018: 11.8)
Tabatabai G, Frank B, Wick A, Lemke D, von Kürthy G, Obermüller U, Heckl S, Christ G, Weller M, Wick W (2007) Synergistic antiglioma activity of radiotherapy and enzastaurin.
Ann Neurol 61: 153-161 (IF 2018: 9.5)
Tabatabai G, Frank B, Möhler R, Weller M, Wick W (2006) Irradiation and hypoxia promote homing of hematopoietic progenitor cells towards gliomas by TGF-beta-dependent HIF-1 alpha-mediated induction of CXCL12.
Brain 129: 2426-2435 (IF 2018: 11.8)
Tabatabai G, Bähr O, Möhle Ra, Eyüpoglu IY, Böhmler AM, Wischhusen J, Rieger J, Blümcke I, Weller M, Wick W (2005) Lessons from the bone marrow: how malignant glioma cells attract adult hematopoietic progenitor cells.
Brain 128: 2200-221 (IF 2018: 11.8)
Ten most important papers (co-authorship)
Barthel FP, Johnson KC, Varn FS, Moskalik AD, Tanner G, Kocakavuk E, Anderson KJ, Abiola O, Aldape K, Alfaro KD, Alpar D, Amin SB, Ashley DM, Bandopadhayay P, Barnholtz-Sloan JS, Beroukhim R, Bock C, Brastianos PK, Brat DJ, Brodbelt AR, Bruns AF, Bulsara KR, Chakrabarty A, Chakravarti A, Chuang JH, Claus EB, Cochran EJ, Connelly J, Costello JF, Finocchiaro G, Fletcher MN, French PJ, Gan HK, Gilbert MR, Gould PV, Grimmer MR, Iavarone A, Ismail A, Jenkinson MD, Khasraw M, Kim H, Kouwenhoven MCM, LaViolette PS, Li M, Lichter P, Ligon KL, Lowman AK, Malta TM, Mazor T, McDonald KL, Molinaro AM, Nam DH, Nayyar N, Ng HK, Ngan CY, Niclou SP, Niers JM, Noushmehr H, Noorbakhsh J, Ormond DR, Park CK, Poisson LM, Rabadan R, Radlwimmer B, Rao G, Reifenberger G, Sa JK, Schuster M, Shaw BL, Short SC, Smitt PAS, Sloan AE, Smits M, Suzuki H, Tabatabai G, Van Meir EG, Watts C, Weller M, Wesseling P, Westerman BA, Widhalm G, Woehrer A, Yung WKA, Zadeh G, Huse JT, De Groot JF, Stead LF, Verhaak RGW; GLASS Consortium (2019) Longitudinal molecular trajectories of diffuse glioma in adults.
Nature 576(7785):112-120 (IF 2018: 45.8)
Herrlinger U, Tzaridis T, Mack F, Steinbach JP, Schlegel U, Sabel M, Hau P, Kortmann RD, Krex D, Grauer O, Goldbrunner R, Schnell O, Bähr O, Uhl M, Seidel C, Tabatabai G, Kowalski T, Ringel F, Schmidt-Graf F, Suchorska B, Brehmer S, Weyerbrock A, Renovanz M, Bullinger L, Galldiks N, Vajkoczy P, Misch M, Vatter H, Stuplich M, Schäfer N, Kebir S, Weller J, Schaub C, Stummer W, Tonn JC, Simon M, Keil VC, Nelles M, Urbach H, Coenen M, Wick W, Weller M, Fimmers R, Schmid M, Hattingen E, Pietsch T, Coch C, Glas M; Neurooncology Working Group of the German Cancer Society (2019) Lomustine-temozolomide combination therapy versus standard temozolomide therapy in patients with newly diagnosed glioblastoma with methylated MGMT promoter (CeTeG/NOA-09): a randomised, open-label, phase 3 trial.
Lancet 393(10172):678-688 (IF 2018: 59.1)
Hilf N, Kuttruff-Coqui S, Frenzel K, Bukur V, Stevanović S, Gouttefangeas C, Platten M, Tabatabai G, Dutoit V, van der Burg SH, Thor Straten P, Martínez-Ricarte F, Ponsati B, Okada H, Lassen U, Admon A, Ottensmeier CH, Ulges A, Kreiter S, von Deimling A, Skardelly M, Migliorini D, Kroep JR, Idorn M, Rodon J, Piró J, Poulsen HS, Shraibman B, McCann K, Mendrzyk R, Löwer M, Stieglbauer M, Britten CM, Capper D, Welters MJP, Sahuquillo J, Kiesel K, Derhovanessian E, Rusch E, Bunse L, Song C, Heesch S, Wagner C, Kemmer-Brück A, Ludwig J, Castle JC, Schoor O, Tadmor AD, Green E, Fritsche J, Meyer M, Pawlowski N, Dorner S, Hoffgaard F, Rössler B, Maurer D, Weinschenk T, Reinhardt C, Huber C, Rammensee HG, Singh-Jasuja H, Sahin U, Dietrich PY, Wick W (2019) Actively personalized vaccination trial for newly diagnosed glioblastoma.
Nature 565(7738):240-245 (IF 2018: 45.8)
Wirsching HG, Tabatabai G, Roelcke U, Hottinger AF, Jörger F, Schmid A, Plasswilm L, Schrimpf D, Mancao C, Capper D, Conen K, Hundsberger T, Caparrotti F, von Moos R, Riklin C, Felsberg J, Roth P, Jones DTW, Pfister S, Rushing EJ, Abrey L, Reifenberger G, Held L, von Deimling A, Ochsenbein A, Weller M (2018) Bevacizumab plus hypofractionated radiotherapy versus radiotherapy alone in elderly patients with glioblastoma: the randomized, open-label, phase II ARTE trial
Ann Oncol 29(6):1423-1430 (IF 2018: 13.9)
Niessner H, Schmitz J, Tabatabai G, Schmid AM, Calaminus C, Sinnberg T, Weide B, Eigentler TK, Garbe C, Schittek B, Quintanilla-Fend L, Bender B, Mai M, Praetorius C, Beissert S, Schackert G, Muders MH, Meinhardt M, Baretton GB, Dummer R, Flaherty K, Pichler BJ, Kulms D, Westphal D, Meier F (2016) PI3K Pathway Inhibition Achieves Potent Antitumor Activity in Melanoma Brain Metastases In Vitro and In Vivo.
Clin Cancer Res 22(23):5818-5828 (IF 2018: 8.9)
Beyeler S, Joly S, Fries M, Obermair FJ, Burn F, Mehmood R, Tabatabai G, Raineteau O (2014) Targeting the bHLH transcriptional networks by mutated E proteins in experimental glioma.
Stem Cells 32(10):2583-95 (IF 2018: 5.6)
Gulbins E, Palmada M, Reichel M, Lüth A, Böhmer C, Amato D, Müller CP, Tischbirek CH, Groemer TW, Tabatabai G, Becker KA, Tripal P, Staedtler S, Ackermann TF, van Brederode J, Alzheimer C, Weller M, Lang UE, Kleuser B, Grassmé H, Kornhuber J (2013) Acid sphingomyelinase-ceramide system mediates effects of antidepressant drugs.
Nat Med 19(7):934-8 (IF 2018: 30.6)
Wick W, Platten M, Meisner C, Felsberg J, Tabatabai G, Simon M, Nikkhah G, Papsdorf K, Steinbach JP, Sabel M, Combs SE, Vesper J, Braun C, Meixensberger J, Ketter R, Mayer-Steinacker R, Reifenberger G, Weller M; NOA-08 Study Group of Neuro-oncology Working Group (NOA) of German Cancer Society (2012) Temozolomide chemotherapy alone versus radiotherapy alone for malignant astrocytoma in the elderly: the NOA-08 randomised, phase 3 trial
Lancet Oncol 13(7):707-15 (IF 2018: 35.4)
Schraivogel D, Weinmann L, Beier D, Tabatabai G, Eichner A, Zhu JY, Anton M, Sixt M, Weller M, Beier CP, Meister G (2011) CAMTA1 is a novel tumour suppressor regulated by miR-9/9* in glioblastoma stem cells.
EMBO J 30(20):4309-22 (IF 2018: 11.2)
Weiler M, Bähr O, Hohlweg U, Naumann U, Rieger J, Huang H, Tabatabai G, Krell HW, Ohgaki H, Weller M, Wick W (2006) BCL-xL: time-dependent dissociation between modulation of apoptosis and invasiveness in human malignant glioma cells.
Cell Death Differ 13(7):1156-69 (IF 2018: 8.1)
Department of Neurology and Interdisciplinary Neuro-Oncology
Head of the department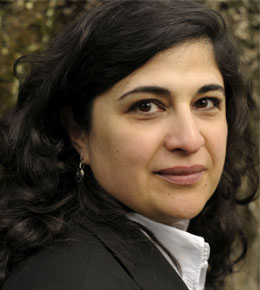 Prof. Dr. Dr. Ghazaleh Tabatabai
Phone 07071 29-85018
ghazaleh.tabatabai@uni-tuebingen.de
Address
Center of Neurology
Hertie Institute for Clinical Brain Research
Department of Neurology & Interdisciplinary Neuro-Oncology
Otfried-Müller-Straße 27
72076 Tübingen
Phone: +49 (0)7071 29-85018
Fax: +49 (0)7071 29-5957