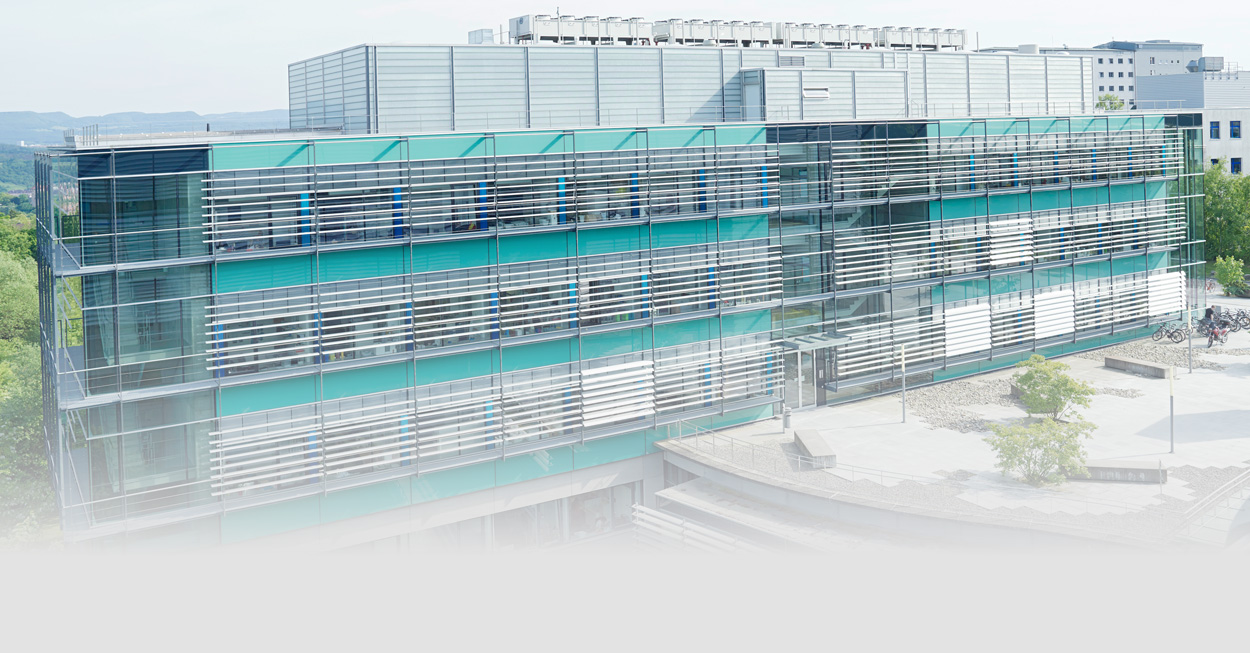 News
Science is international

The Hertie Institute for Clinical Brain Research at the University Hospital Tübingen supports the common statement by German Rectors´ Conference (HRK), Alexander von Humboldt Foundation, German Research Foundation, German Academic Exchange Service, German Council of Science and Humanities, German National Academy of Sciences Leopoldina, Helmholtz Association of German Research Centres, Leibniz Association, Max Planck Society. The institute refuses US President Donald Trump's order, which is intended to prohibit nationals from seven Muslim countries from entering the United States. The directive puts people at a disadvantage solely because of their ethnicity and attacks the fundamental values of science. Scientific knowledge can only be gained in open, free and international discourse. … more information

Dr. Sven Poli is coordinating a European-wide study on neuroprotection in ischemic stroke since January 1, 2017

In ischemic stroke, brain-supplying arteries are blocked and blood perfusion in parts of the brain is disrupted. This leads to an oxygen deficiency and the affected brain tissue dies over time. Current stroke treatment therefore aims at reopening blocked arteries, which is subject to time limitations.

Since the beginning of the year, Dr. Sven Poli at the HIH and vice medical director at the Dept. of Neurology & Stroke at the University Hospital Tübingen is coordinating a Europe-wide phase II study on high-dose oxygen therapy in stroke. The researchers want to show whether a rapidly initiated high-dose oxygen therapy may protect threatened brain tissue from dying until the blood circulation is restored. Infarct volume and degree of disability may be minimized in this way. The study is funded by the European Union with EUR 6 million and involves 12 clinical centers in 8 European countries.

Dr. Daniel Häufle is a new research group leader at the HIH

Daniel Häufle develops models and computer simulations for biological movements. The physicist wants to understand how movements are controlled and why some neurological disorders lead to movement disorders. His research findings are applied in the development of asisstive devices. Häufle makes use of an interdisciplinary and multi-level approach, considering biophysics, biomechanics. His computational procedures take different hierarchy-levels of movement control into account. Coming from the excellence cluster SimTech at the University of Stuttgart, Häufle will now head a junior research group at the HIH. His group will be part of the "System Human" research alliance between the Universities of Tübingen and Stuttgart, which is funded by the Ministry of Science, Research and Art of the State of Baden-Württemberg.

Not of Divided Mind

As we get older, our brain mobilises additional capacity whenever it is particularly challenged. According to the current paradigm, the aging brain makes use of areas in both hemispheres, while only using one hemisphere for each task at a younger age. A team of researchers at the department of cognitive neurology at the Hertie Institute for Clinical Brain Research (HIH) led by Dr Axel Lindner has now investigated specifically when this mechanism is engaged. Employing functional magnetic resonance imaging (fMRI), they observed the dorsolateral prefrontal cortex (dlPFC), a brain area responsible for memory tasks. They found that the dlPFC is active in both hemispheres whenever faced with especially difficult tasks – not only in elderly but also in younger people. ...more information

How the brain perceives causal relationships

A research team headed by Professor Dr. Martin Giese and Professor Dr. Hans-Peter Thier at the Department of Cognitive Neurology have discovered that mirror neurons are involved in the perception of causality.

... more information (in German only)

Pionier der nicht invasiven Hirnstimulation bleibt am Hertie-Institut für klinische Hirnforschung

Professor Dr. Ulf Ziemann, Ärztlicher Direktor der Abteilung Neurologie mit Schwerpunkt neurovaskuläre Erkrankungen am Universitätsklinikum Tübingen und Direktor am Hertie-Institut für Klinische Hirnforschung (HIH) hat den Ruf auf eine W3-Professur für Neurologie an der Medizinischen Hochschule Hannover mit ungeteilter Leitung der dortigen Klinik für Neurologie abgelehnt. Ziemann wird in Tübingen bleiben. Auf die Frage, was ihn zu dieser Entscheidung bewogen hat, verweist der Neurologe auf das einzigartige neurowissenschaftliche Umfeld auf dem Schnarrenberg. Das HIH gehört zusammen mit dem Centrum für Integrative Neurowissenschaften CIN, dem Tübinger Standort des Deutschen Zentrums für neurodegenerative Erkrankungen DZNE und der Neurologie der Universitätsklinik Tübingen zu einem deutschlandweit einzigartigen Neuroscience Campus. … mehr Info

Professor Dr. Yvonne Weber receives Heinrich Pette Award 2016

Neurologist and epileptologist Yvonne Weber from the Hertie Institute for Clinical Brain Research at University Hospital Tübingen has received this year's Heinrich Pette Award from the German Society of Neurology (DGN). The professor, who works at the Department of Neurology and Epileptology, was awarded at the 89th meeting of the society in Mannheim. The prize is presented annually to aspiring scientists and is endowed with 10,000 euros. It recognizes outstanding achievements in the field of neurology.

… more information (in German only)

From left to right: Professor Stefan Schwab, chairman of the DGN Meeting 2016, Professor Yvonne Weber, awardee, Professor Ralf Gold, president of the DGN

"Wir wollen bereits die ganz frühen Gehirnveränderungen therapieren"

Der 21. September ist Welt-Alzheimertag. An diesem Tag wird in der ganzen Welt auf die Krankheit und die Situation der Betroffenen und ihrer Familien aufmerksam gemacht. Prof. Dr. Mathias Jucker, Forscher am Hertie-Institut für klinische Hirnforschung, arbeitet an einem Therapieansatz gegen die ersten frühen Veränderungen im Gehirn. Die Gemeinnützige Hertie-Stiftung, die das HIH bislang mit rund 37 Millionen Euro unterstützt hat, sprach mit Jucker über seine aktuellen Arbeiten, aber auch über seine Art und Weise Forschung zu betreiben. …. mehr Info

Sigmund Kiener Stiftung supports HIH

Over the next three years, the Hertie Institute for Clinical Brain Research (HIH) at Tübingen University Hospital receives a total of 75,000 euros from the Sigmund Kiener Stiftung in Baden-Baden, hereby enabling three Sigmund Kiener doctoral fellowships for students of human medicine.

This generous funding supports the HIH in a major concern. By means of a superior medical doctorate, the HIH aims to give doctors-to-be the opportunity to pursue a career as "clinician scientist". These physicians feel at home in the hospital as well as in basic medical research.

… more information (in German only)
Research groups

Neurology and Stroke

Brain Networks and Plasticity

Das menschliche Gehirn besitzt eine erstaunliche Fähigkeit zur Reorganisation, die Voraussetzung für die Anpassung an sich ständig ändernde Umweltbedingungen ist. Diese Fähigkeit zur Plastizität ...mehr Info

Neurology and Epileptology

Functional Neuronal Networks

Neuronal network activity can be assessed by the microelectrode array (MEA) technology that allows simultaneous recording of the electrical activity exhibited by entire populations of neurons over several weeks or months in vitro. ...mehr Info

Cognitive Neurology

Neuropsychology of Action

The Research Group "Neuropsychology of Action" is dedicated to investigations of human action control. We study clinical impairments of action control and their neural substrates in patients with brain damage due to stroke or neurodegenerative diseases. ...mehr Info

Cellular Neurology

Experimental Neuroimmunology

An immune response is part of most neurological diseases, and the development of late-onset Alzheimer's Disease (AD) has been linked to immune related genes and most recently also to epigenetic modifications. ...mehr Info

Neurodegenerative Diseases

Genetics of Parkinson's disease

Das Parkinson Syndrom (PS) ist nach der Alzheimer-Demenz die zweithäufigste neurodegenerative Erkrankung. Die große Mehrzahl der Patienten erkrankt ohne erkennbare Ursache. Bei einem kleinen Teil der Patienten ...mehr Info

Cellular Neurology

Section for Dementia Research

The Section for Dementia Research of the Department of Cellular Neurology and the University Clinic for Psychiatry and Psychotherapy is headed by Prof. Dr. Christoph Laske. The section consists of a Research Unit and an associated outpatient Memory Clinic. ...mehr Info

Neurology and Stroke

Neuroimmunology

Our research group investigates the role of the immune system in inflammatory diseases of the central nervous system (CNS) and stroke. We are particularly interested in finding out which immune cells are ...mehr Info

Neurology and Epileptology

Clinical Genetics of Paroxysmal Neurological Diseases

Der Überbegriff der paroxysmalen neurologischen Erkrankungen beinhaltet ein breites Spektrum an klinischen Entitäten mit episodischem Auftreten von Störungen des Nervensystems....mehr Info

Cognitive Neurology

Neuro-Vestibular Diagnostics

The complaint of dizziness is highly prevalent but remains often an enigma to the physician in daily practice. Serious diseases potentially accompanied by dizziness like stroke, multiple sclerosis ...mehr Info

Cognitive Neurology

Oculomotor Laboratory

Computerspiele sind ein sehr weit verbreitetes Freizeitvergnügen unserer Gesellschaft. Um die Folgen dieser Spiele abschätzen zu können, führen wir Untersuchungen der Blickbewegungen und des Pupillenreflexes sowie die Auswirkungen von ... mehr Info

Cellular Neurology

Experimental Neuropathology

Cerebral proteopathy is a unifying term for cerebral neurodegenerative diseases in which aggregated proteins are abnormally deposited in the brain. The hallmark proteopathy is Alzheimer's disease (AD) ...mehr Info

Independent Research Groups

Neuroregeneration

Our research focuses on the molecular and cellular mechanisms of axon regeneration and neuronal differentiation for the repair of central nervous system (CNS) damage, with particular emphasis on Spinal Cord Injury (SCI) and Stroke. ...mehr Info

Neurodegenerative Diseases

Functional Neurogenomics

Die Forschungsgruppe befasst sich mit verschiedenen Fragen der molekularen Pathogenese und experimentellen Therapie neurodegenerativer Erkrankungen. Im Vordergrund steht dabei die Erforschung ..mehr Info
Research groups
Neurodegenerative Diseases

Clinical Neurodegeneration

Die Forschungsgruppe "Klinische Neurodegeneration" befasst sich mit häufig vorkommenden neurodegenerativen Erkrankungen, v.a. der Parkinsonerkrankung und Demenzerkrankungen, die mit Bewegungsstörungen einhergehen. ...mehr Info

Cellular Neurology

Molecular Imaging

The Molecular Imaging group focuses on the visualization of Alzheimer's disease (AD) related changes in the brain of mouse models using in vivo multiphoton microscopy. A solid knowledge of the dynamics of amyloid lesions and ...mehr Info

Neurology and Stroke

Molecular Neurooncology

Die Forschungsgruppe für Molekulare Neuro-Onkologie befasst sich mit Fragestellungen zur Tumorbiologie des Glioblastoms (GBM), dem häufigsten und bösartigsten Hirntumor des Menschen ...mehr Info

Neurology and Epileptology

Functional Epilepsy Genetics

Our research focus is on two ion channel groups with a prominent role in the regulation of excitability, the neuronal Kv7 channels and the GABA(A) receptors. A number of genetic alterations detected in recent years in the corresponding KCNQ2/3 ...mehr Info

Cognitive Neurology

Neurobiology of Decision Making

Given the vast number of behavioral options that are usually available in an everyday life situation, how do we - and thus our brain - decide which option to go for? ...mehr Info

Neurodegenerative Diseases

Functional Neurogeriatrics

Die Forschungsgruppe funktionelle Neurogeriatrie untersucht motorische Funktionseinschränkungen bei Älteren und Patienten mit neurodegenerativen Erkrankungen. Es kommen dabei modernste Detektionssysteme ...mehr Info

Cellular Neurology

Fluid Disease Biomarkers

Processes related to Alzheimer ́s disease (AD) and other age-related neurodegenerative diseases start many years before the onset of the first clinical symptoms. At the moment of the first clinical complaints, the disease has already caused ...mehr Info

Neurology and Stroke

Clinical and Experimental Neurooncology

Die Projekte des Labors für Klinische und Experimentelle Neuroonkologie befassen sich mit der Biologie von Hirntumoren, mit speziellem Fokus auf zielgerichteten individualisierten therapeutischen Angriffspunkten ...mehr Info

Neurology and Epileptology

Translational Imaging

Der Schwerpunkt unserer Forschungsgruppe ist die strukturelle und funktionelle Bildgebung neurologischer Erkrankungen mit besonderem Fokus auf die Epileptologie. Wir nutzen die technischen Methoden multi-modaler Bildgebung ...mehr Info

Neurodegenerative Diseases

Dystonia

Dystonia is the third most common movement disorder, and mutations in a growing number of genes have been identified as causes for hereditary forms in many cases. The aim of the group, which brings together clinical experience ...mehr Info

Neurology and Stroke

Neurophonetics and Translational Neurorehabilitation

Die Forschungsgruppe Neurophonetik befasst sich mit den neuralen Grundlagen der lautsprachlichen Kommunikation des Menschen unter Berücksichtigung klinischer Untersuchungen, psycholinguistischer ...mehr Info

Neurology and Stroke

Stroke and Neuroprotection

The research focus of our Stroke and Neuroprotection Laboratory is to find new and to optimize existing neuroprotective strategies ...mehr Info

Neurology and Epileptology

Experimental Epileptology

Our research group is interested to unravel the mechanisms of well defined, mainly genetic, neurological, paroxysmal diseases, to understand correlations with clinical symptoms and to find new treatment options. ...mehr Info
Research groups
Neurology and Epileptology

Migraines and Primary Headache Disorders

Unsere Arbeitsgruppe beschäftigt sich mit der Entschlüsselung der Genetik und molekularen Pathophysiologie der Migräne und anderer primärer Kopfschmerzerkrankungen. ...mehr Info

Neurodegenerative Diseases

Section for Clinical Neurogenetics

In enger Verzahnung von Klinik und Grundlagenforschung verfolgen wir einen translationalen Ansatz um Ursachen neurogenetischer Erkrankungen aufzudecken und durch die Analyse der ...mehr Info

Neurodegenerative Diseases

Systems Neurodegeneration

Die Forschungsgruppe von Dr. Matthis Synofzik ist spezialisiert auf die Erforschung genetischer Grundlagen, system-neurologischer Charakteristika und paradigmatischer Therapieansätze bei ...mehr Info

Cognitive Neurology

Sensorimotor Lab

Die enorme Anzahl an Fasern, die der Großhirnrinde entspringen und über die pontinen Kerne in das Kleinhirn projizieren, weisen den cerebro-ponto-cerebellären Pfad als eine wichtige Instanz der ...mehr Info

Neurodegenerative Diseases

Genomic of Rare Diseases

Seltene Erkrankungen sind also eine enorme Herausforderung und die Medizin und erfordern von uns Klinikern und Wissenschaftlern, Fachleute für Spezialfälle zu sein. Das Schlagwort Präzisionsmedizin - im Alltag der seltenen Erkrankungen ist es längst angekommen ...mehr Info

Cognitive Neurology

Section for Computational Sensomotorics

The Section for Computational Sensomotorics investigates theoretical principles in the perception and control of motor actions. Research is organized around three main topics ...mehr Info

Neurodegenerative Diseases

Genetics and Epigenetics of Neurodegeneration

The recent advances in high-throughput genomic technologies have provided an unprecedented amount of genotype, expression and epigenetic data for many human disorders. Although many genetic studies have been successful ...mehr Info

Cognitive Neurology

Section for Neuropsychology

The Section for Neuropsychology focuses on the investigation of spatial cognition and object recognition in humans. The current issues of our work comprise the action control and sensorimotor coordination ...mehr Info

Cellular Neurology

Amyloid Biology

The group studies mechanisms of amyloid formation in particular the molecular nature of pathogenic protein aggregation. ...mehr Info

Neurodegenerative Diseases

Functional Neurogenetics

Age-related neurodegenerative diseases are a severe and increasingly worrisome burden for our aging population. Most of the chronic neurodegenerative diseases ...mehr Info

Independent Research Groups

Learning and Memory

Unser Ziel ist es, molekulare, synaptische und zelluläre Prozesse in der Amygdala und mit ihr assoziierter Gehirnregionen, die an der Steuerung von Furcht und der Speicherung von Furchtgedächtnis beteiligt sind, zu identifizieren. ...mehr Info

Cognitive Neurology

Systems Neurophysiology Lab

The overarching goal of our work is to understand the operating principles of the neocortex, a unique brain structure, which mainly evolved in mammals. There is clear evidence that the neocortex, in the broadest sense, endows the subject with cognitive capabilities. ...mehr Info
Events
-Hertie Lunch Seminar
1:00 p.m.
Structural Imaging of the Human Superior Colliculus at Ultra High Field
Joana Loureiro, Cognitive Neurology, Group Himmelbach
1:30 p.m.
Dysfunction of voltage gated sodium channels and the central control of
breathing
Henner Koch, Neurology and Epileptology, Group Lerche
Location: Hertie Seminar Room 2.310
An exemplary connection between research and clinical care
The German Council of Science and Humanities recognizes the performance and academic excellence of the Hertie Institute for Clinical Brain Research. The recommendation of the council is an excellent basis for the further development of the HIH.
Press release by the German Council of Science and Humanities