The goal of the Hertie Network of Excellence in Clinical Neuroscience is the close collaboration between basic science and clinical research in order to develop more and faster therapies for the benefit of patients. Founded in 2019, the network brings together six top sites of clinical brain research and offers career prospects for excellent young researchers. The Hertie Foundation is providing nearly 6.5 million euros to continue the funding program over the next three years, the foundation announced.
Tübingen is one of the top locations in the Hertie Network of Excellence in Clinical Neuroscience. New fellows will be Dr. Danique Beijer (HIH), Dr. Deborah Kronenberg-Versteeg (HIH), Dr. Stephan Lauxmann (HIH), and Dr. Niels Niethard (Tübingen University Hospital). Alumni from the first funding period are Dr. Stefanie Hayer (HIH), Dr. Dr. Randolph Helfrich (HIH), Dr. Marion Inostroza (University Hospital Tübingen), and Dr. Jonas Neher (HIH). Site spokespersons are Prof. Dr. Thomas Gasser and Prof. Dr. Martin Giese (both HIH).
"The Hertie Network is an innovative program that brings together top sites in clinical brain research and successfully builds translational bridges," says Prof. Dr. Otmar D. Wiestler, President of the Helmholtz Association and Chairman of the Scientific Advisory Board that reviewed the Hertie Network. "It can serve as an impetus for other funding programs with a similar design. The collaborations and career development of the young researchers are impressive, as are the high levels of third-party funding, such as through the Emmy Noether program and ERC Starting Grants."
Read the press release of the Hertie Foundation (in German only)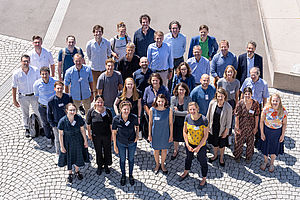 Photo: Hertie Foundation / Wolfram Scheible