On July 25, 2023, the popular Neuroscience Campus Get Together took place again. This is traditionally organized jointly by the HIH, the Center for Integrative Neurosciences (CIN), the Tübingen location of the German Center for Neurodegenerative Diseases (DZNE) and the Neurological University Clinic. New this year was the newly founded Hertie Institute for AI in Brain Health.
One item on the program were guided tours of the DZNE laboratories. The "HIH Paper of the Year Award" was then presented. The prize honors the best scientific publication from the previous year from the HIH and went to Dr. Jessica Wagner from the department "Cellular Neurology" (headed by Prof. Dr. Mathias Jucker) for her publication "Medin co-aggregates with vascular amyloid-β in Alzheimer's disease" in the journal Nature.
The study shows that the protein Medin forms aggregates with amyloid-β in the brain vessels of Alzheimer's patients and thus impairs the function of the blood vessels. These new findings will help improve our understanding of Alzheimer's disease and potentially lead to the development of new treatment approaches that could specifically help restore blood vessel function.
Despite the rainy weather, numerous employees came to the DZNE. After the award ceremony, grilled food and refreshing drinks lured for a cozy get-together.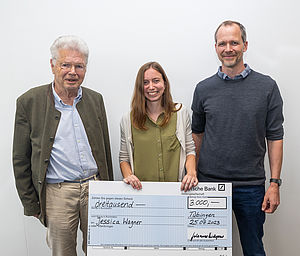 Photo: HIH founding director Prof. Dr. Johannes Dichgans, award winner Dr. Jessica Wagner, last author of the study Dr. Jonas Neher
Copyright: best moments photography (Armin Burckhardt) / HIH